Get tickets now for episocopal ordination
Published: June 27, 2022
The deadline to request tickets to attend the episocopal ordination Mass of Bishop-elect Erik Pohlmeier has been extended to July 10 or until they are gone. Previously it was June 24. The Little Rock pastor and diocesan faith formation director will be ordained Friday, July 22 at St. Joseph Church in Jacksonville, Fla.
Attendees can also choose to ride on a chartered bus from Little Rock and stay in a hotel room block secured by the Diocese of Little Rock. Tickets for those making their own travel arrangements will be mailed to them.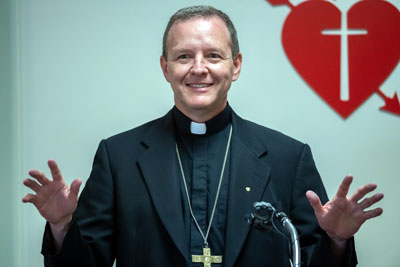 For those riding the bus, tickets will be provided to you July 22. Submit your ticket request and pay for the hotel and bus package at https://july22ordination.eventbrite.com.
Pope Francis appointed Father Erik Pohlmeier the next bishop of the Diocese of St. Augustine in Florida on May 24. He succeeds Bishop Felipe J. Estévez, who has served as bishop of the Diocese of St. Augustine for the past 11 years and is retiring.
Bishop-elect Pohlmeier, 50, will be installed as the 11th bishop of St. Augustine with Archbishop Thomas Wenski of Miami presiding at the ordination liturgy. Bishop Anthony B. Taylor of Little Rock and Bishop Estevez will be co-consecrators.
One of seven Catholic dioceses in Florida, St. Augustine has a Catholic population of more than 149,000 in 17 counties in the northeastern part of the state. This compares to the approximately 154,000 Catholics in Arkansas' 75 counties.
For the past 24 years, Bishop-elect Pohlmeier served as a pastor in the Diocese of Little Rock. Most recently he was pastor of Christ the King Church in Little Rock, and director of the Office of Faith Formation and Office of Deacon Formation. He was theological consultant for Arkansas Catholic newspaper for 19 years and director of continuing education of clergy since 2019.
Raised in Paris, Arkansas, Bishop-elect Pohlmeier was ordained a priest for the Diocese of Little Rock on July 25, 1998.
"I am grateful for every way I have been called to serve the Church and am humbled by this opportunity to serve in the place where Mass was first celebrated in the United States. May God be praised for any good work I am able to do," Bishop-elect Pohlmeier said reflecting on this appointment.
---