Men Study to be Deacons for Five Years
The Diocese of Little Rock offers a five-year, bilingual, permanent diaconate formation program through the Office of Faith Formation. Catholic men in good standing with the Church, who will be 35 years old by their ordination date are eligible to apply. Weekend classes are held monthly. The English program is presented by St. Meinrad Seminary in Indiana, where many of the diocese's seminarians also receive their priestly formation. Instructors provide in-person courses at St. John Catholic Center in Little Rock along with online courses for 11 months a year for five years. For more information, email Deacon Mark Verkamp, associate director of permanent diaconate formation, or call him at (479) 965-6255. Spanish formation is provided by diocesan clergy and laity through in-person courses at Subiaco Abbey in Subiaco, also for 11 months a year for five years. For more information, email Deacon Marcelino Luna, associate director of faith formation, or call him at (501) 664-0340, ext. 392 or (501) 413-8810. | Class of 2022 | Class of 2028 | En Español
---
Diaconate Formation Class of 2022
2022 Deacon Candidate Directory
Click the button above to learn more about the English-speaking candidates who are being formed for ordination to the permanent diaconate in 2022. For more information, email Deacon Mark Verkamp, associate director of permanent diaconate formation, or call him at (479) 965-6255.
Inquiry meetings began in 2015 and by January 2016 more than 130 men and their wives began meeting to discern a vocation to the diaconate. After completing nine months of prayer and reflection, 85 men were interested. Of these, 70 were accepted into formation for the permanent diaconate class of 2022.
Classes began in August 2017. For the first year, these men were called aspirants and their formation focused on human, spiritual, intellectual and pastoral formation. Bishop Anthony B. Taylor accepted 62 men as candidates in September 2018. From that point forward coursework has focused more on theological studies.
"You candidates for the permanent diaconate are on a path to becoming ordained ministers of the Church. As such, you will encounter human brokenness in many ways and will need to deal compassionately with everyone you meet, including those people who are hard to love," said the bishop during his homily.
By Sept. 12, 2020, 48 men advanced to the next step in formation when they were installed as acolytes during a private Mass at Christ the King Church in Little Rock. Bishop Taylor presented each new acolyte with a paten to symbolize the service the acolyte can provide during Mass. As acolytes, they will serve during liturgies, help distribute holy Communion and purify sacred vessels.
"As acolytes, it will be your responsibility to assist priests and deacons in carrying out their ministry, and so you — like them — should strive to live a life of sacrificial love modeled on that of Jesus, who gave his life for our salvation and is the victim we offer to the Father every time we celebrate the Eucharist," he said during his homily.
---
Diaconate Formation Class of 2028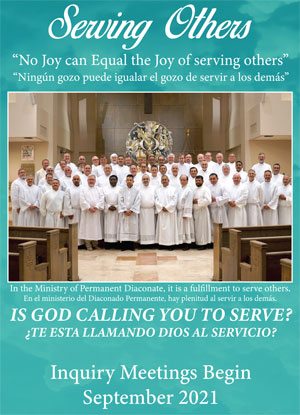 Inquiry meetings will be held in the fall of 2021 about this new formation class being formed. Catholic men in good standing with the Church, who will be 35 years old by 2028, are invited to attend. An overview of the five-year diaconate formation program, which is scheduled to begin in the fall of 2023, will be explained.
The meetings will be presented in English and Spanish, in separate rooms, at the same location and time. Those discerning a vocation to the permanent diaconate should attend one of these meetings to be held at different parishes across the diocese.
See full list of inquiry meeting dates and locations. For more information, email Deacon Mark Verkamp, associate director of permanent diaconate formation, or call him at (479) 965-6255. This program is a ministry of the Office of Faith Formation for the Diocese of Little Rock.