Diaconate Formation Class of 2022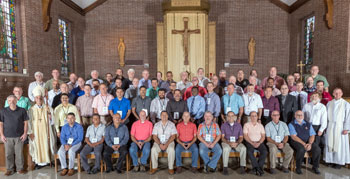 The Diocese of Little Rock is offering a five-year, bilingual, permanent diaconate formation program that began in the fall of 2017. It is a ministry of the Office of Faith Formation under the direction of Father Erik Pohlmeier.
Seventy men were accepted into the program in August 2017. For the first year, these men were called aspirants and their formation focused on human, spiritual, intellectual and pastoral formation.
In September 2018, 62 were accepted as candidates for ordination to the permanent diaconate by Bishop Anthony B. Taylor. From 2018 to 2022 their formation courses are focusing more on theological studies.
"You candidates for the permanent diaconate are on a path to becoming ordained ministers of the Church. As such, you will encounter human brokenness in many ways and will need to deal compassionately with everyone you meet, including those people who are hard to love." — Bishop Anthony B. Taylor, homily for candidacy Mass, Sept. 8, 2018
The English-speaking candidates and their wives attend monthly, weekend classes at St. John Catholic Center in Little Rock, while the Spanish-speaking men and their wives attend formation classes at Subiaco Abbey in Subiaco. For the first time, the diocese is providing the candidacy program in English through St. Meinrad Seminary in Indiana.
The Diocese of Little Rock also works closely with St. Meinrad Seminary for priestly formation of many of our seminarians. Instructors provide in-person and online courses for 11 months a year for five years. For the Spanish formation, diocesan clergy and laity lead in-person courses at Subiaco Abbey over the same period. Ordination is expected to occur in the summer of 2022.
This formation process began in 2015 when all those interested attended informational meetings to learn about the permanent diaconate. It was open to Catholic men in good standing with the Church who would be at least 35 years old by their ordination in 2022.
More than 130 men and their wives began meeting to discern a vocation to the diaconate in January 2016. After completing nine months of prayer and reflection, 85 men were interested. Of these, 70 were accepted.
The development of this formation class came after a five-year break. Bishop Anthony B. Taylor ordained 40 English- and Spanish-speaking men from across the diocese to the permanent diaconate in November 2012. For more information, contact Father Pohlmeier at (501) 664-0340.