Make Christmas brighter for retired priests
Published: December 20, 2021
The annual Christmas collection is the primary source of income for the Clergy Welfare Fund, which supports retired and infirm priests of the Diocese of Little Rock. This special collection will be taken up during all Masses at Catholic parishes in Arkansas on Christmas Eve and Christmas Day.
According to Arkansas Catholic, this fund takes care of the needs of aging priests who no longer serve at a parish, as well as those who become ill and cannot perform their priestly duties. This includes providing living arrangements, meals, health care, transportation and end-of-life care.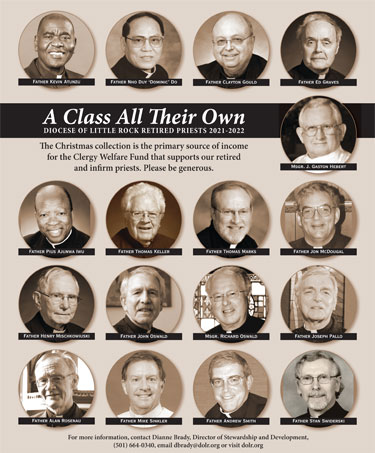 While the diocese reserves funds for priests who are sick, 95 percent of the money is spent on our 17 retired priests, now called senior priests. In 2020, $511,239 was collected at Christmas for this fund. Read Arkansas Catholic to learn more about how the money is used.
"I am most grateful for your generosity to your parish and the diocese at a time when many people faced and continue to face their own financial struggles," Bishop Anthony B. Taylor wrote in a letter to be read at all Christmas Masses. "Your support will enable us to continue to provide benefits for our retired priests and for future obligations."
"I pray daily for you and your loved ones. May you have the peace and joy of Christ this Christmas season and every day of the coming year," he added.
Six of the senior priests live at St. John Manor, which is in Fitzgerald Hall on the campus of St. John Catholic Center in Little Rock. Each has an apartment with a living room, bedroom and private bathroom. They eat their meals in a communal dining room and have a shared living room to watch TV, read and play a game of pool. Marc Rios, Fitzgerald Hall's resident manager, told Arkansas Catholic that life at the manor is not extravagant.
"A lot of these priests have nothing. As diocesan priests, they don't have their own furniture. When they move from parish to parish, it's all provided for them. So, they don't amass or accumulate a lot of physical property. Sometimes they just come here with just the clothes they have and a few items, so we're able to provide them a fully furnished apartment, someone to take care of their laundry, someone to feed them, someone to clean their apartments. And they're very grateful," he said.
For more information, contact Dianne Brady, director of the Stewardship and Development Office, at (501) 664-0340.