Catholic Arkansas Sharing Appeal 2023
Published: February 5, 2023
Bishop Anthony B. Taylor recorded the following homily to be played at all Masses in Arkansas on Feb. 4-5, 2023.
Download MP3 file to your device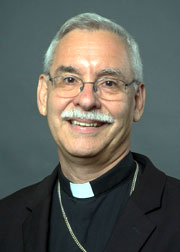 Bishop Taylor
There have been two major ongoing initiatives in our local church over the course of the last couple of years: the Synod On Synodality and the National Eucharistic Revival. Last year we published a report describing the themes that consistently emerged in our synodal consultations throughout the diocese, and more recently I published my response to the synod in which I describe how we intend to respond to what we are hearing.
There were 11 areas of special focus, most of which play out on the local level — for instance, the desire for a greater sense of community and fellowship, and in some places the desire for their priest to be more present to their people. But there were also needs expressed that exceed what most individual parishes are in a position to meet, hence this message today.
It is to cover some of the expenses of the offices of our diocese and the ministries carried out on the diocesan level that we have our annual CASA appeal (Catholic Arkansas Sharing Appeal). One of the areas funded by CASA that was most frequently mentioned in our synodal consultations was that of youth and young adult faith formation, for which we already have a very active diocesan level ministry, both in English and in Spanish.
Thank you so much for your generosity in the past. I know these have been a very trying last few years, and thank you in advance for your generous response to this appeal.
Another area was that of our tribunal, which works hard to help people who are seeking to have their marriages regularized in the Church. Some people wish this process could be faster, but our tribunal does try to be as accommodating as possible within what Church law currently allows, and their work and expertise are funded through CASA: The tribunal charges no fees, the process is difficult as it is.
People also expressed a desire for a resumption of spiritual growth opportunities that were suspended during the pandemic and we are taking steps to resume having Cursillos and spiritual director formation in both English and Spanish. We also have a large number of men who are in discernment for the permanent diaconate and their formation is funded partially by CASA.
In addition to the Synod on Synodality, we are already part of the way through the first year of a three-year process of eucharistic revival, which began in our diocese last June on the feast of Corpus Christi, the Body and Blood of the Lord. This first year is the diocesan phase and you have already received a couple of recorded messages from me regarding the celebration of the Mass and eucharistic devotions, including eucharistic adoration.
We also plan to designate St. Edward Parish in Little Rock to be a diocesan shrine of divine mercy starting June 11, the feast of Corpus Christi this year. In this shrine we will have eucharistic exposition and adoration every day at 5 p.m. Monday - Thursday, and at 3 p.m. — the hour of mercy — on Friday, Saturday and Sunday.
The sacrament of reconciliation will be available in English and Spanish every day during adoration except on Mondays. Some CASA money will be made available to help with expenses connected with diocesan-wide events this coming year to foster our eucharistic revival, including ceremonies on the day when we launch our Divine Mercy Shrine.
The purpose of this message is to enlist your support for all the new initiatives I have mentioned and the ongoing ministries of our diocese. Hard copies of the results of the synod and my response to the input I received have been printed and distributed in all our parishes, and are also published on our diocesan website, as is information about events related to the eucharistic revival here locally. I hope all of you will participate in everything!
And of course, we need your financial contribution as well, which is the purpose of this message. As in the past, we ask for 1 percent of your annual income. Our rule of thumb for stewardship of your 10 percent tithe is 1 percent of your annual income to the diocese, 5 percent to your local parish and 4 percent to other charities, which could include Catholic charities, or more to the diocese or to your parish.
Thank you so much for your generosity in the past. I know these have been a very trying last few years, and thank you in advance for your generous response to this appeal.
---