Six seminarians take steps to priesthood
Published: November 30, 2020
Bishop Anthony B. Taylor installed six Diocese of Little Rock seminarians as lectors, acolytes and candidates during the 4 p.m. Mass at Our Lady of Good Counsel Church in Little Rock on Sunday, Nov. 29. This Mass is closed to the public to safeguard against COVID-19, but it was livestreamed on the diocese's YouTube channel and is available for play at any time. Watch below.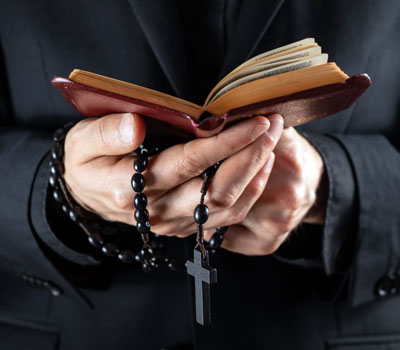 Seminarians Cody Eveld of Charleston and Duwan Booker of Conway were installed as lectors, which allows them to proclaim the Word of God during liturgies and catechize the faithful. Seminarians John Paul Hartnedy of Little Rock and Mark Johns of Jonesboro were installed as acolytes, which allows them to serve at the altar during Mass, assist in the purification of Communion vessels and take holy Communion to the sick.
And seminarians Jaime Nieto of Springdale and Daniel Wendel of Little Rock were accepted as candidates for holy orders, which is conferred on those who have demonstrated the necessary qualifications for ordination.
This event is sponsored by the Vocations and Seminarians Office. For more information, contact Maria Izquierdo-Roque at (501) 664-0340, ext. 378. To learn more about our seminarians, visit the Seminarian Directory.
---