2023 — I Theology
John Paul Hartnedy, St. Edward Church, Little Rock
Attends Assumption Seminary in San Antonio, Texas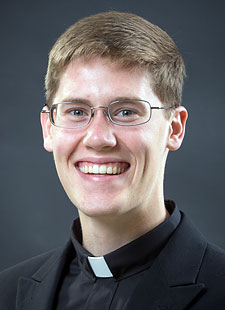 I am in the seminary studying and discerning the priesthood because I have experienced in my own life the necessity and the joy of a relationship with Jesus, and I am growing more confident that the most fulfilling way for me to live out this relationship is by serving others as a priest.
God has given me great examples of love, service and joy in my parents and my sister. My parents taught me how to pray, love my sister and help out around the house. They also showed me by their example how to ask for forgiveness, be patient with myself and others and to develop a grateful heart.
They really were my first teachers of the faith, and although they aren't perfect, they helped form in me early habits of practical love and an openness to God that has nourished my desire to become a priest.
My sister has also helped in my discernment. We have always been close, and through our relationship I have learned to laugh and find the joy in daily activities, whether we were working or playing together. Spending time together has taught me to be relaxed and flexible with my own preferences, as well as not take myself too seriously.
I realized for the first time that God was inviting me to be a priest when I received my first holy Communion, but it would take years for me to grow into this calling. Along with my family, other people have guided my discernment, especially some parish priests and a few close friends. These close friends, priests and other mentors accompanied me as I grew up, encouraging me to stay close to Jesus daily, and build on the foundation my family had formed in me.
About this time I was entering high school, and I began to realize it was time for me to act. Saints do not coast their way into heaven, but consciously choose to love and serve as Jesus asks them to. Similarly, although I yearned to want what Jesus planned for me, it was clear that I needed to deepen my relationship with him and make it more real and personal if I wanted to live out my own vocation to the fullest.
Following the advice of one of my teachers, I began to spend some time in silence each day in the chapel at school, offering Jesus myself and waiting to receive his love. I struggled with self-doubt, uncertainty and impatience, but I reminded myself that this relationship is important to me and it is worth the effort. Because of my doubts and to overcome feelings of scrupulosity, I simply offered what was currently in my heart: fears, frustrations, dreams, hopes, sorrows and joys.
Usually during this time, I would feel no response from Jesus and would sometimes feel discouraged. However, I slowly realized that in the time we were spending together, Jesus was teaching me to pray honestly, to be myself, to purify my desires, and to train my heart to recognize and respond to his invitations. Although I was still insisting on clarity regarding whether or not I should enter seminary right after high school, I realized that Jesus was offering me something more important and primary — a relationship with him.
Whether or not I entered seminary, I knew I would need a real and faithful friendship with Christ. With this realization, I slowly let go of my willfulness in needing an answer to the question of my vocation. If Jesus just wanted to spend time together, even in silence, I would be content with that, and I trust that he would guide my decision when the time comes.
I did choose to enter seminary right after graduating from high school. I sought the advice of my family, spoke with Msgr. Friend — the vocations director — and made a decision in faith, confident in the small indications and movements of my heart that had a gradually offered me some clarity.
I began my philosophy studies with a lot of enthusiasm, but forgot to continue deepening my relationship with Jesus. However, I quickly realized that seminary is not my final destination, nor a time to coast, but an opportunity and a place to grow. I reapplied myself, and in the first two years I learned a lot about myself and how I love. Although I sought to love Jesus and others, I also found a lot of self-love and mixed motives in my actions. Through spiritual direction, the sacraments — especially the Eucharist and reconciliation — and a few good friends, I began to notice this fragmented love, and slowly allowed Christ to purify it.
In my third and fourth years of seminary, I also began experiencing more opportunities to serve others, both in the seminary and in the local community. This certainly continued to offer me opportunities to love more selflessly, but it also gradually confirmed my desire to become a priest. Through pastoral assignments, I encountered people of various ways of life, with various histories, struggles, hopes and dreams, but all shared the common desire to love and be loved in one way or another.
Spending time serving people and enabling them to serve each other and work together has been one of the biggest challenges but also one of the deepest sources of joy for me during the four years I have been in seminary. Experiences I have with others nourish and enliven my prayer, which in turn strengthens and guides me in service. It seems to me that if I do have a vocation to the priesthood, it will be an invitation to a life of joyful self-sacrifice and continued growth, constantly letting go of myself, and faithfully turning to Jesus and others for help.
One of my greatest desires, which motivates me in discerning the priesthood is to offer those I encounter an opportunity to fulfill their desire to love and be loved. I want to help people seek Jesus in their daily lives, work and relationships, and to let him love them through me. As I have experienced the love, mercy, fidelity, sense of humor and friendship of Jesus, so I want to be available to accompany others in their relationship with him.
If you wish to contact John Paul Hartnedy, please e-mail Maria Izquierdo-Roque in the Vocations Office or call her at (501) 664-0340. This article was published Sept. 17, 2019. Copyright Diocese of Little Rock. All rights reserved. This article may be copied or redistributed with acknowledgement and permission of the publisher.