2022 — I Theology
Daniel Wendel, Christ the King Church, Little Rock
Attends Assumption Seminary in San Antonio, Texas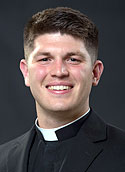 Early in my life, the plans about my future and the priesthood were not on a course to meet. I had plans to go into the military, go to college and play lacrosse. Once all that was accomplished, I would get married.
However, God had a different plan for me that would make me happy. The Lord made my heart, and he knows best how my heart can love to the fullest extent.
However, until I realized that I should have been listening to my heart, the Lord used people in my life to direct my mind to the thought of priesthood. Sometimes he would place the idea in my head just to have me think about this vocation. I would push it away determined that my plan would come true and not his.
I realized that the fear of losing control of what happens in my life was holding me back. My change of heart came during Holy Week, when I had a spiritual face to face conversation with God. He wanted to know if I desired to do his will because he was ready for me. My yes to him that day changed my heart forever.
Now my life is run by faith. God will put me where he wants me to be. Prayer, which used to be uncomfortable because I struggled with the stillness that it entailed, is now one of the most important things in my life.
It is the connection with our Father that has deepened my relationship with him beyond anything I would have imagined. It truly is the fuel that I need to help me persevere in my vocation.
I have learned that I need to trust even more in God's guidance. God is making me into the man he desires me to be, and his guidance is testing me in areas where I am weak to show me where I need to grow. I commit myself to God and to go wherever he desires me to be.
I am incredibly grateful for the many people who journey with me on my path to priesthood. I receive letters, e-mails, texts and prayers from numerous people that encourage me greatly. I enjoy being back in the many parishes of our diocese during the summer months.
Seeing the love people have for the Lord brings joy to me and refuels me in my own journey. It gives me hope to see that there are many of all ages that see how the Lord should be the center of their life and that we need him.
I see how Christ makes himself present to his people in the Eucharist through his priests. This is a journey in my life that means following him fully and completely so that he can accomplish his plan with all of us.
---