IV Theology
Dc. Cody Eveld, Sacred Heart Church, Charleston
Attends
Saint Meinrad Seminary

in

St. Meinrad, Indiana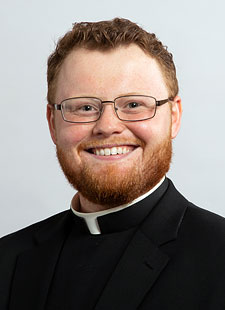 Throughout my life, any time I had a thought about becoming a priest it probably lasted no longer than 30 seconds. I always thought I would graduate college, go to law school, become an attorney and one day get married and have kids. My thoughts on becoming a priest all changed when I attended a church camp in the summer of 2017.
We were having adoration and I fell asleep. I'm not sure how much time passed but all of a sudden I woke up and was flooded with all these thoughts about becoming a priest. Suddenly everything was falling into place, the more I thought about it the more it all made sense. That night I was so joyful. I believe my heart was overpowered by God and the Holy Spirit.
The next week two seminarians at the time, John Marconi and Joe Friend, happened to be at my parish for summer evangelization. Joe called his uncle, Msgr. Scott Friend, a day or two after, and we set up a meeting for that weekend to converse about my discernment to the priesthood. It has now been a few years since that first conversation with Msgr. Friend and I have grown more than I could have ever imagined in that period.
I can remember my first semester in the seminary being tough for me grade-wise but Msgr. Friend encouraged me to do the best I could. Since then, I have realized that nothing in my life functions correctly if I am not spending time with the Lord. That first semester in the seminary taught me a very important lesson: That my spirituality is not just a part of my life, but it is rather the hub that holds everything together. This realization has helped me to grow in my faith more than I could have ever imagined and as a result has enhanced the other aspects of my life.
After completing my second year of theology in San Antonio, I spent the summer working as a chaplain at a hospital in Little Rock, which was an incredible experience. The Lord allowed me to enter into others' suffering in ways I never thought possible.
During that time, he drew me deeper into conformity with his Sacred Heart, challenging me to enter into the sufferings of those who he called me to serve. We also had the great blessing of beginning the three-year eucharistic renewal, which calls us to greater devotion and understanding of the Blessed Sacrament.
It is in the presence of this Blessed Sacrament that the Lord has drawn me closer to his Sacred Heart. It is in the reception of this Blessed Sacrament that he has given me the strength to serve his people.
This aspect of service is even more important since I was ordained a deacon last May. I have especially been moved by the blessing of preaching the Word of God to his people. As I attend Saint Meinrad Seminary for my last year of formation, I ask for you continued prayers as I prepare to be ordained to the priesthood.
O Most Sacred Heart of Jesus, have mercy on us!