2022 — I Theology
Jaime Nieto, St. Raphael Church, Springdale
Attends Assumption Seminary in San Antonio, Texas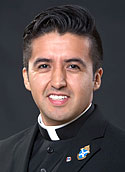 "'... Ah, Lord God!' I said,'I know not how to speak. I am too young. ...'" (Jeremiah 1:6)
Four years have passed since I answered the Lord's call to follow him. Through these four years I have learned, grown and matured. The Lord has worked with me in so many ways. There were times where the struggles and challenges were difficult, but the Lord was there and strengthened me to keep moving forward.
I am excited to continue my theological formation at Assumption Seminary and the Oblate School of Theology in San Antonio, Texas. The studies require four years of formation before my diaconate and priesthood ordinations.
This new journey has many challenges that will help me grow, and I am sure there will be tough times, but I know that I will be able to overcome them with your prayers. Your prayers are an important pillar in my formation and will strengthen me. You all have been an indispensable part in this journey; a journey of sacrificial love, of which the Lord is calling me.
This past summer I worked in four sessions with the evangelizations teams. I was assigned to St. Mary in Arkadelphia, St. Theresa in Little Rock and St. Vincent de Paul in Rogers. I also helped with Catholic Charities Summer Institute (C2SI) and went to Steubenville, Ohio with the youth group from Mena. I was beyond excited to go to all these communities and get to know the people that I may someday serve as pastor.
I want to thank you all for your support and prayers. I look forward to sharing with you my experience studying theology. May God bless each one of you for all your support for me and for my brother seminarians. Thank you once again and see you soon!
---