2022 — II Theology
Jaime Nieto, St. Raphael Church, Springdale
Attends Assumption Seminary in San Antonio, Texas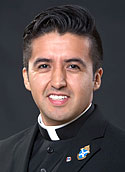 The Lord answered her: "Martha, Martha! You are worried and troubled over so many things, but just one is needed. Mary has chosen the right thing, and it will not be taken away from her." (Luke 10:41-42)
Five years have passed since I answered the Lord's call to follow him. Through these five years, I have learned, grown and matured in my four pillars of formation. The Lord has worked in me in so many ways. There were times where the struggles and challenges were difficult, but the Lord was there and strengthened me to keep moving forward. I have been challenged to come out of my comfort zone by the Lord. I feel how he has stretched my heart in many ways in order to love the way he does.
I am now in my second year of theological formation at Assumption Seminary and the Oblate School of Theology in San Antonio, Texas. My first year of theology at Assumption Seminary was a year full of challenges. The Lord continued to ask of me to let go of many things that worried me. This is the reason why I have chosen the reading from the Gospel of Luke.
There were many things that continued to tie me down and I was not able to respond to the Lord to my full potential. The Lord was asking me to give him my wounds from the past in order to heal them. I was able to give all my struggles to him and he showed me the way to set my spirit free.
In the summer of 2019 I was assigned to St. Mary Church in Batesville, St. Cecilia Church in Newport and St. Barbara Church in De Queen. I spent most of my time at St. Mary's and St. Cecilia's where I had the opportunity to work with Father Stephen Gadberry. I learned so much and I felt the Lord's work in me and in the people he placed in my path. It was a challenging summer to confront my fears and mainly to accompany people in their journey with the Lord.
For the last two weeks of July 2019, I worked with my brother seminarian, Daniel Wendel at St. Barbara. Working with Father Ramsés Mendieta brought back, for both of us, many memories from when we started following the Lord's call. I have enjoyed every single minute and experience the Lord gave me through the summer. I am truly blessed because I had the opportunity to meet many people that opened their hearts to me and I will always be thankful to them.
Lastly, I want to thank you all for your support and prayers. May God bless each one of you for all your support for me and for my brother seminarians. Thank you once again and see you soon!
If you wish to contact Jaime Nieto, please e-mail Maria Izquierdo-Roque in the Vocations Office or call her at (501) 664-0340. This article was published Sept. 17, 2019. Copyright Diocese of Little Rock. All rights reserved. This article may be copied or redistributed with acknowledgement and permission of the publisher.