IV Theology
Dc. Jaime Nieto, St. Raphael Church, Springdale
Attends Assumption Seminary in San Antonio, Texas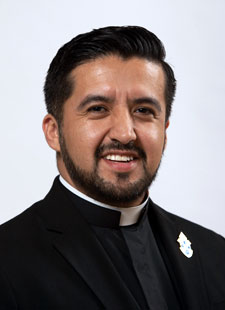 "Jesus turned and saw them following him and said to them, 'What are you looking for?'" — John 1:38
Last spring I successfully concluded my third year of theology. It was a challenging year because of the pandemic. We had all of our classes through Zoom, and we were unable to do much ministry because of all the restrictions because of COVID-19.
On May 21, I was blessed to be ordained to the transitional diaconate. It was one of the most powerful moments of my life in my formation towards priesthood. The moment that touched my heart during my ordination was the litany of the saints. The peace and serenity I felt while prostrated on the floor was just too powerful. I will never forget that day.
During the summer, I served as a deacon at Sacred Heart in Morrilton and St. Joseph in Center Ridge. This assignment helped me be more involved in parish life. I served in Masses, preached, visited families, the sick, and took on as many ministry opportunities as I could get while there.
This fall I returned to my theological formation at Assumption Seminary and the Oblate School of Theology in San Antonio. I am in my fourth and final year of theological studies in preparation for my priestly ordination in May of 2022. This fills me with excitement as I come to a close in my formation to become the best pastor I can be for the people of God.
I still can't believe that seven years have passed and I am less than a year away from my priesthood ordination. I am excited and ask the Lord for strength, wisdom and patience to listen to his voice and do his will.
Lastly, I want to thank you all for your support and prayers. I look forward to sharing my experience studying theology and the ones I lived during the summer. May God bless each one of you for all your support for my brother seminarians and me. Thank you once again, and see you soon!
If you wish to contact Dc. Jaime Nieto, please e-mail Georgina Pena in the Vocations Office or call her at (501) 664-0340. This article was published Oct. 11, 2021. Copyright Diocese of Little Rock. All rights reserved. This article may be copied or redistributed with acknowledgement and permission of the publisher.
---