46 men to be ordained deacons in June
Published: May 31, 2022
Bishop Anthony B. Taylor will ordain 46 men to the permanent diaconate in two bilingual ordination Masses in June. The first Mass will be celebrated at 10 a.m., Saturday, June 11 at Christ the King Church in Little Rock. The second will be held at 10 a.m., Saturday, June 25 at St. Vincent de Paul Church in Rogers.
After their ordinations, they will serve in parishes across Arkansas. See the list of appointments for details. To learn more about these new deacons, visit Arkansas Catholic.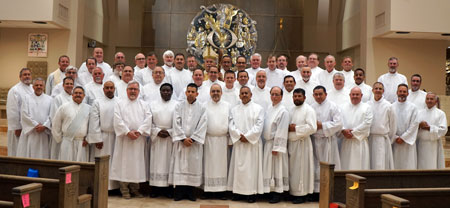 These diaconate candidates and their wives are part of the Diaconate Formation Class of 2022, a process that began in 2016 with a year of discernment. Those later accepted into the program began taking weekend long formation classes monthly in August 2017. Despite the challenges, they were able to continue their formation during the COVID-19 pandemic.
"They've been very resilient and very open to what they've been asked of in formation," said Bishop-elect Erik Pohlmeier, diocesan director of permanent diaconate formation. He will be ordained bishop of the Diocese of St. Augustine in Jacksonville, Fla., July 22.
The diaconate process takes six years, with the first being a year of discernment before candidates apply. It is followed by a year of aspirancy. Bishop-elect Pohlmeier said the process is the same model used in seminary formation, focusing on four pillars: academic, spiritual, pastoral and human formation, spread throughout the years. Once ordained, deacons are assigned to a parish by the bishop, in most cases to their home parish. To learn more, read Arkansas Catholic.
The next class of deacons is already discerning. In January, about 90 men and their wives started with a discernment year, and about 85 are still discerning, said Deacon Mark Verkamp, incoming director of diaconate formation, beginning July 1. Candidates accepted into the program will begin their aspirancy year in 2023 and will be ordained in 2028. In the past, there has been about 10 years between diaconate classes, according to Arkansas Catholic.
If you have questions about the permanent diaconate formation process, email Deacon Verkamp or call the Office of Faith Formation at (501) 664-0340.