Mary, Joseph seek shelter in Las Posadas
Published: December 12, 2022
Las Posadas, which means "the inns" or "the shelters" in Spanish, is a 400 year old Advent tradition in Spanish-speaking countries, particularly Mexico. This novena takes place from Dec. 16-24 and focuses on the struggle of Mary and Joseph to find shelter when they arrive in Bethlehem. | Learn more in Arkansas Catholic.
Many Catholic parishes and schools in Arkansas host this novena during Advent. Although some have adapted the tradition for their community, generally, this is how it is practiced. Adults and children take part in an evening procession, with two people dressed as Mary and Joseph, to three houses singing songs and praying.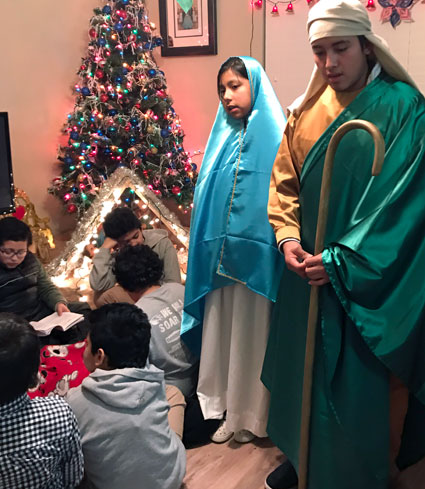 The homeowners act as the innkeepers and refuse the group lodging by answering in song. At the third house, the group is let in and everyone prays in front of the nativity scene and/or prays the rosary, which is following by a party with special foods, singing of Christmas songs and a piñata in the shape of a star for the children.
This happens every night for nine days and concludes on Christmas Eve, with the greatest party that leads into going to Midnight Mass. In addition to being the number of days for a novena, it also represents the nine months of Mary's pregnancy.
The origin of the custom is attributed to St. John of the Cross (1542-1591), an Advent saint whose feast day is celebrated Dec. 14. He carried statues of Joseph and Mary through a Carmelite convent in Spain seeking a place to stay. Missionary priests later brought the custom to Mexico using real people instead of statues.
If this tradition is not available at your parish or school, consider doing it at home. The Diocese of Des Moines offers a great family activity to do Las Posadas by "bringing Jesus to your neighbors." Another idea from Our Sunday Visitor suggests you can adapt the tradition by using the figures of your nativity scene to re-enact Mary and Joseph's journey to Bethlehem.
Instead of "Elf on the Shelf," consider this: "Start with an empty stable. Place the figures of Mary and Joseph on the other side of the room and move them closer to the créche each day. On Christmas Eve add baby Jesus, the angels and the shepherds. Then let the Wise Men begin their journey to the créche so they arrive on the feast of the Epiphany."
---
---