Share the light of Christ on St. Lucia Day
Published: December 9, 2022
"In thy patience thou didst possess thy soul, O Lucy, Spouse of Christ! Thou didst despise what is of the world, and now thou are resplendent among the choirs of angels; with thy own blood thou didst conquer the enemy" — Antiphon from the Divine Office, Feast of St. Lucy
We celebrate lots of incredible saints during the season of Advent. One of the lesser-known saints, at least in the United States, is St. Lucy, whose feast is celebrated on Dec. 13. This virgin martyr is believed to have died for her faith in the year 304 in Sicily, during the persecutions of Roman Emperor Diocletian, who ruled from 284-305. Not much is known for certain about St. Lucy, but she is among the few female saints listed in the canon of the Mass.
Legends about Lucy include a rejected suitor denouncing her as a Christian and miracles that saved her from life in a brothel, from being burned at the stake, and from having her eyes plucked out. Another legend says she bled to death after her throat was cut.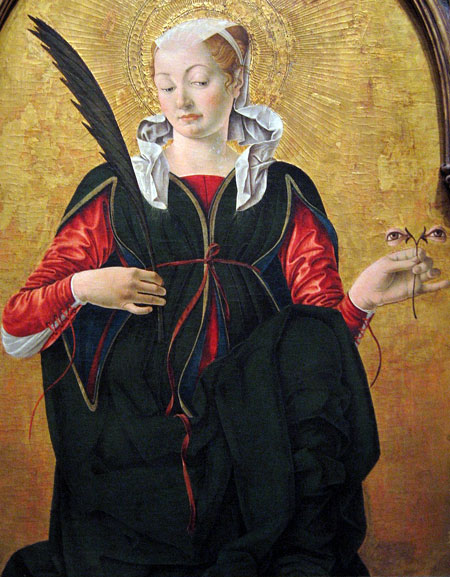 According to Simply Catholic, the most prevalent legend holds that Lucy's mother was dying and arranged a marriage to provide for her. Lucy's mother visited the shrine of St. Agatha seeking a cure and the saint came to Lucy in a dream and promised to intercede for her mother. After Lucy convinced her mother to donate their wealth to the poor, her betrothed became angry and reported Lucy to authorities for being Christian. She was arrested and sentenced to death when she refused to renounce her faith.
Lucy died by sword after several attempts to violate her purity and bring about her death failed. "Later narratives relate that her death was hastened once her eyes were gouged out, while another says she gouged out her own eyes to deter a suitor. For these legends, St. Lucy is remembered as a patroness of those suffering afflictions of the eye, and in art she typically is depicted holding eyes on a platter. Devotion to St. Lucy spread quickly in the early Church, and her popularity saw a peak in the Middle Ages."
St. Lucy's name is derived from the Latin word for "light," and her feast is a major celebration in Sweden. "Young girls dressed in white deliver sweets while caroling. They wear red sashes to commemorate St. Lucy's martyrdom, and wreaths of lit candles sit on their head, representing the light of Christ that shone through the holiness and purity of the virgin-saint of Syracuse."
The Catholic Company explains that the basis for this tradition may come from the legend that "St. Lucy would wear a wreath of candles on her head so she could see better, her arms full of supplies, as she served the poor Christians hiding from persecution in the dark underground catacombs."
Another popular tradition is to bake sweets including "Lussekatter" ("St. Lucy Cake") or saffron buns shaped into various shapes. Catholic Cuisine offers a recipe for a braided St. Lucia crown. And Catholic Icing offers lots of resources to celebrate this feast with children including craft projects, coloring pages, recipes, books and more.
The Diocese of Des Moines offers these suggestions to celebrate the day and prepare for Christ's birth: "As Lucy's name means light, start turning on your Christmas lights each night beginning on her feast day, eat dinner by candlelight, or take a drive to look at Christmas lights. Wear red, the color of those martyred for their faith in Jesus, and ask St. Lucy's prayers for all those in the world persecuted for their faith even today. As patroness of eyes, honor St. Lucy by donating used eye-glasses to the Lions Club, or look up a local institute for the blind and learn how you can help."