Sunday, Oct. 1, 2023 - Tuesday, Oct. 31, 2023
Location: All Parishes - Nationwide
Contact: Catherine Phillips
Phone: (501) 664-0340, ext. 326

Watch New Respect Life Video Series
Click on the button above to watch "Life and Human Dignity: A Consistent Ethic of Life," a four-part video series that invites participants to form a consistent ethic of life through respect for human life in all of life's circumstances, from conception to natural death. It was produced by our diocese's Respect Life Office, in cooperation with the Office of Faith Formation. This course is available at learn.dolr.org/courses and could be a great educational opportunity during October, or anytime of the year.
During the month of October, Catholics are asked to reflect more deeply on how we uphold the dignity of every human life, in every circumstance across the lifespan. The theme and materials for 2023 reflect our call to "radical solidarity" through pro-life ministry.
As Pope Francis explains in "Evangelii Gaudium" ("The Joy of the Gospel"), radical solidarity "refers to something more than a few sporadic acts of generosity," rather it calls us to out-of-the ordinary action that "gets involved by word and deed in people's daily lives … and it embraces human life, touching the suffering flesh of Christ in others."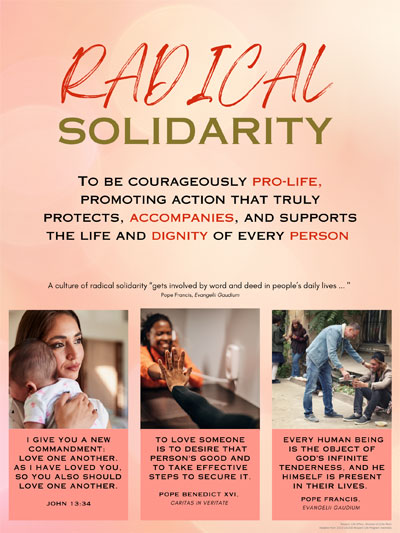 Respect Life Month is a time to inspire and encourage individuals and parish communities to engage in a program of pro-life activity that protects, accompanies and supports the life and dignity of every person, especially the most vulnerable among us. It kicks off on Respect Life Sunday, which this year is Oct. 1.
Join Father John Connell, VG, as he celebrates a special Respect Life Mass at noon at the Cathedral of St. Andrew on Oct. 1. A Holy Hour for Life will be held at 3 p.m. at the Shrine of Divine Mercy at St. Edward Church in Little Rock. For more information and resources, contact Catherine Phillips, director of the Respect Life Office, at (501) 664-0340, ext. 326 or read Arkansas Catholic.
Prayer for Radical Solidarity
The following prayer was adapted from the 2023 Respect Life Program materials from the U.S. Conference of Catholic Bishops. Download this prayer in English or Spanish. Also available is the poster in English and Spanish. If you would like posters or prayer cards mailed to you, please email the Respect Life Office at respectlife@dolr.org.
"Almighty and ever-living God, have mercy on us. Help us to recognize others as our brothers and sisters in Christ and actively work for their good. Send us a spirit of hope and generosity of heart so we can be courageously pro-life, promoting action that truly protects, accompanies and supports the life and dignity of every person. Amen."
---
---
---
---