Respect Life Mass, holy hour will be Oct. 1
Published: September 27, 2023
The Diocese of Little Rock Respect Life Mass will be held at noon, Sunday, Oct. 1, at the Cathedral of St. Andrew in Little Rock. Father John Connell, vicar general, will be the principal celebrant and homilist. A Holy Hour for Life will be held at the Shrine of Divine Mercy at St. Edward Church in Little Rock at 3 p.m.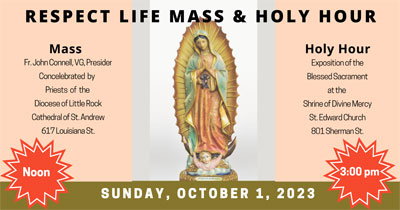 The Mass and holy hour mark the beginning of our diocese's observance of Respect Life Month, which is a time to inspire and encourage individuals and parish communities to engage in a program of pro-life activity that protects, accompanies and supports the life and dignity of every person, especially the most vulnerable among us.
These events are sponsored by the Respect Life Office. For more information or resources, email Catherine Phillips, respect life director, at (501) 664-0340, ext. 326 or read Arkansas Catholic.
October is Respect Life Month. It kicks off on Respect Life Sunday, which this year is Oct. 1. All are invited to attend these events and pray that every human life, from the moment of conception until natural death and in every circumstance across the lifespan will be respected, protected and cherished.