Celebrate Catholic schools Jan. 28 to Feb. 3
Published: January 26, 2018
Catholic Schools Week will be observed nationwide Jan. 28 to Feb. 3. This year's theme: "Catholic Schools: Learn. Serve. Lead. Succeed" focuses on the important spiritual, academic and societal contributions provided through a Catholic education.
Schools typically observe the week with special Masses, open houses and other activities for students, families, parishioners and the community. Through these events, schools focus on the value Catholic education provides to young people and its contributions to the Church, communities and the nation. To learn how Catholic schools in Arkansas will celebrate this event, read this week's edition of Arkansas Catholic.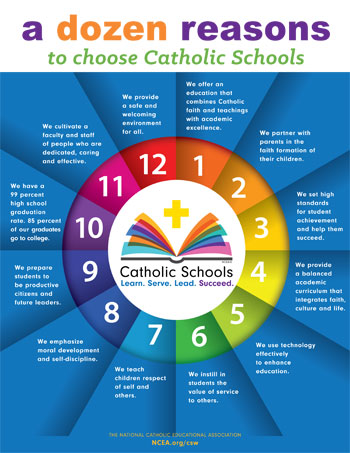 "Catholic schools provide an invaluable service to young people, their families, and our nation by helping to form women and men with the sharp intellects, broad perspectives and big hearts who bring their best to communities near and far. Jesus Christ came to change hearts and to serve — one person at a time — and so Catholic schools invite students to encounter Christ, to be changed by him, and love God by serving others with all of their heart, mind, soul and strength," said Bishop George Murry, SJ, chairman of the U.S. bishops' Committee on Catholic Education about the value of Catholic schools.
New this year, the National Catholic Educational Association (NCEA) launched "Many Gifts, One Nation: A Day of Giving" as a way for individuals to give to their local Catholic schools. Facts Management, which handles financial interactions with parents for thousands of schools, is assisting with the campaign. It will be held from 8 a.m. Central Time, Tuesday, Jan. 30 to 8 a.m. Wednesday, Jan. 31. All participating dioceses and Catholic schools will have a special donation page for 24 hours. Personalized web pages were shared with the schools Jan. 22. Donations will be accepted by Visa, Mastercard and Discover. For more information, visit the NCEA website on Jan. 30.
Nearly 1.9 million students are currently educated in 6,429 Catholic schools across the United States. Ninety-nine percent of students graduate from high school and 86 percent of Catholic school graduates attend college. This percentage has been consistent through the past 20 years. To learn more, visit the NCEA. For statistics about Catholic schools in Arkansas, visit the Office of Catholic Schools, or e-mail Marguerite Olberts, associate superintendent, or call her at (501) 664-0340, ext. 394.