Celebrate joy of marriage in February
Published: February 7, 2022
The U.S. Conference of Catholic Bishops partners with other organizations to promote National Marriage Week each year to help build "a culture of life and love that begins with supporting and promoting marriage and the family." It is always held Feb. 7-14. The 2022 theme is: "Called to the Joy of Love."
World Marriage Day, held on the second Sunday of February, is part of this observance. This year, it falls on Feb. 13. World Marriage Day "honors husband and wife as the foundation of the family — the basic unit of society. It salutes the beauty of their faithfulness, sacrifice and joy in daily married life," according to its sponsor Worldwide Marriage Encounter (WWME).
WWME is offered in the Diocese of Little Rock and is available to help married couples focus on each other and their relationship. It is sponsored by the Family Life Office. Primarily, WWME is designed to help couples pause, reflect and reconnect privately. There is no group discussion.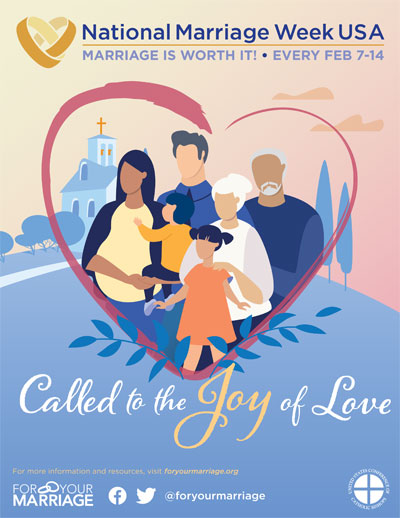 Three couples and a priest lead participants through a program where they share experiences and offer tools to improve communication. Weekend and weeknight experiences are available. Weeknight programs last two to three hours each in seven sessions, whereas weekend programs cover the material in two to three days. Married couples with good marriages are encouraged to apply. If you are struggling in your marriage, try Retrouvaille instead.
This year, consider the gift of time to strengthen your marriage this Valentine's Day by participating in the next marriage encounter weekend, which will be offered in English and Spanish Feb. 11-13.
The English weekend will be held at Coury House Retreat Center in Subiaco. Apply online at: www.arkansaswwme.org/apply or e-mail Ben and Leah Brewer at apply@arkansaswwme.org. The application fee is $100 per couple with an additional donation requested during the weekend to cover costs.
Encuentro Matrimonial, the Spanish-language version of this program, will be held at St. John Catholic Center in Little Rock. To apply, download and return the application form with fee. The cost is $175. For more information, contact Elizabeth Reha, family life director, at (501) 664-0340, ext. 373.
Future marriage encounter weekends will be held in July and October in Spanish and in September in English. Virtual marriage encounters are also an option, especially during the ongoing COVID-19 pandemic. Virtual weekends follow the same schedule but are attended from home, using video conference software. Find a complete schedule on the main WWME website.
In addition to National Marriage Week, For Your Marriage, a website of the U.S. Conference of Catholic Bishops, offers several online resources to support your marriage all year long. Follow For Your Marriage on Facebook as well.
---