Catholic schools day of giving is Jan. 29-30
Published: January 25, 2019
During Catholic Schools Week, schools have special Masses, open houses and other activities for students, families, parishioners and the community. Click on the button above to see a list of special events Catholic schools in Arkansas have planned Jan. 27 - Feb. 2. To learn more about our Catholic schools, read the Catholic Schools Herald from Arkansas Catholic.
Catholic Schools Week will be observed nationwide Jan. 27 to Feb. 2. This year's theme: "Catholic Schools: Learn. Serve. Lead. Succeed" focuses on the important spiritual, academic and societal contributions provided by a Catholic education firmly rooted in the truth of the Gospel.
"For more than 180 years, Catholic schools in our diocese have provided its students with superior academics, spiritual formation and a deeper understanding of Catholic faith. These pillars of Catholic education have instilled the value of service and gratitude in our Catholic school students," said Theresa Hall, superintendent of Catholic schools, in the Jan. 26 issue of Arkansas Catholic.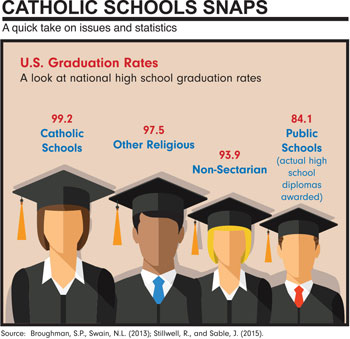 "Seeing former students become good parents, Catholic parishioners, productive citizens and energetic leaders reminds me that Catholic education is a gift that continues to give. Catholic schools are not just memories for former students but an active gift that calls its students to give more than we have received." Read more.
For the second year, the National Catholic Educational Association (NCEA) will lead the Many Gifts, One Nation: A Day of Giving to Catholic Schools campaign, in partnership with FACTS Management, from 11 a.m. Jan. 29 to 11 a.m. Jan. 30. During this 24-hour window, individuals may donate online to the participating Catholic school or diocese of their choice with Visa, Mastercard and Discover. To donate, visit the special donation page, click on the search button and select a diocese or school.
One hundred percent of each donation goes to the school or diocese chosen. In 2018, more than $850,000 was donated to 539 participating Catholic schools, six dioceses and the NCEA. For more information, visit the NCEA website.
"Young people today need Catholic education more than ever. In a world where truth, beauty and goodness are considered all but subjective, the Way, Truth and Life offered us in Jesus Christ are our only source of direction, clarity and hope. Furthermore, being rooted in faith does not endanger the academic quality of Catholic schools, but in fact is their very motivation for excellence in all things," said Bishop Michael C. Barber, SJ, chairman of the U.S. Conference of Catholic Bishops Committee on Catholic Education in a Jan. 16 statement about Catholic Schools Week.
Nearly 1.8 million students are currently educated in 6,352 Catholic schools nationwide. Ninety-nine percent of Catholic school students graduate from high school and 86 percent of Catholic school graduates attend college. This percentage has been consistent for more than 20 years. To learn more, visit the NCEA. For statistics about Catholic schools in Arkansas, visit the Office of Catholic Schools, or e-mail Marguerite Olberts, associate superintendent of marketing, or call her at (501) 664-0340, ext. 394.