Taste of Faith Dinner
Taste of Faith is a dinner to raise money to help pay for seminarian education in the Diocese of Little Rock. It is held in Little Rock as well as other areas of the state three to four times per year.
In addition to the meal, attendees are treated to musical entertainment, testimonies and talks from the diocesan vocations director and our bishop. It is estimated to cost the diocese $36,000 a year to educate one seminarian. Thus, the diocese needs nearly $1.5 million a year for education and living expenses for the seminarians.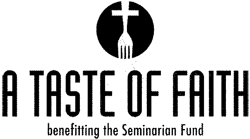 In addition to this event, seminarian supporters may contribute to the cost of seminarian education any time of the year by donating online to the Support Seminarian Education fund.
If you prefer to give cash or write a check, you are welcome to contribute to the annual Holy Thursday Collection for Seminarians, which is taken up in all parishes in Arkansas, or donate to the Msgr. James O'Connell Seminarian Fund. Taste of Faith is sponsored by the Stewardship and Development Office. For more information, contact Dianne Brady, director, at (501) 664-0340, ext. 391.