CRS Rice Bowl Lenten Program
CRS Rice Bowl is a Lenten program that seeks to educate participants on issues faced by the poor in the developing world and to raise funds for CRS' overseas development projects. By being part of this program, you can deepen your Lenten experience by participating in the traditional practices of prayer, fasting and almsgiving. CRS Rice Bowl begins on Ash Wednesday and concludes at the end of Lent.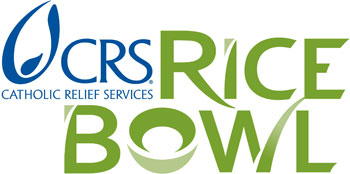 Activities for families, individuals, parishes and classes can be downloaded for free from the CRS website. These can help bring Lenten spirituality to life while providing an opportunity to make a difference in the U.S. and around the world. These resources are available in English and Spanish. Twenty-five percent of the money remains in the Diocese of Little Rock to assist low-income people through Catholic Charities of Arkansas.
The remaining 75 percent supports CRS' humanitarian and development programs overseas, providing assistance to impoverished and vulnerable communities. Therefore, parish and school participation is just as important locally as it is globally. For more information about CRS Rice Bowl or other CRS programs, please contact Megan Moore at (501) 664-0340, ext. 379. CRS is the official international humanitarian agency of the Catholic community in the United States. Every year, U.S. Catholics assists more than 100 million of the world's poorest people through CRS, yet many are unfamiliar with the agency and its work.
---