Give alms through CRS Rice Bowl in Lent
Published: February 28, 2023
Looking for an effective way to teach your children about Lent, Jesus' sacrifice and how they can help those in need while living out their faith? Try CRS Rice Bowl. This Catholic Relief Services (CRS) Lenten project encourages participants to perform a simple sacrifice by substituting a low-cost meatless meal for more expensive dining once a week, and put the money saved in the cardboard "rice bowl."
If you didn't get a rice bowl at church or school, you can download the materials to make one for free. You can also donate online. Use the Lenten calendar each day to practice the Lenten pillars of prayer, fasting and almsgiving. All materials are also available through the CRS Rice Bowl App.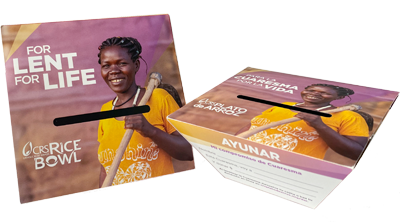 "The past year has been hard on so many families around the world," said Beth Martin, CRS' director of formation and mobilization. "We've seen an increase in global hunger because of a kind of perfect storm of multiple factors. CRS Rice Bowl is a great way for U.S. Catholics to show our sisters and brothers in these difficult situations that they are not forgotten, and that we will continue to stand in solidarity with them."
Each year, CRS Rice Bowl highlights families from three countries that benefit from this project. This year, families in Honduras, Phillippines and Kenya are featured. Through their stories, rice bowl participants learn how they overcome factors that lead to hunger, including flooding and drought.
In 2022, youth from 13,000 Catholic parishes and schools across the United States turned in rice bowls at the end of Lent. In the Diocese of Little Rock, $24,024.10 was collected through CRS Rice Bowl.
Seventy-five percent of the money raised goes to support CRS' humanitarian and development programs outside the United States, while 25 percent remains in the local diocese from which the donation came. The 25 percent that remained in Arkansas was $6,006.02, which was used to assist low-income families through Catholic Charities of Arkansas.
In its first 40 years, more than $250 million has been given through CRS Rice Bowl. Of that, $62.5 million went to programs in the U.S. and $187.5 million went to CRS programs overseas.
In addition to dropping money in rice bowls, participants can take advantage of the program's prayer resources and reflections, the daily calendar, digital retreat, weekly stories of hope that introduce families from around the world and recipes from various countries for meatless meals that can be enjoyed on Fridays during Lent. These materials are designed for families, parishes, educators and dioceses in English and Spanish. For more information, visit CRS Rice Bowl or contact Megan Moore at (501) 664-0340, ext. 379.
---