Three MLK Masses to be held this month
Published: January 7, 2021
Normally, Bishop Anthony B. Taylor celebrates the annual Dr. Martin Luther King Jr. Memorial Mass in January at the Cathedral of St. Andrew in Little Rock. However, this Mass, which was scheduled for Jan. 9 has been canceled because of the COVID-19 pandemic. Instead the Diocesan Council for Black Catholics will host three smaller gatherings at the predominantly black parishes in central Arkansas this month.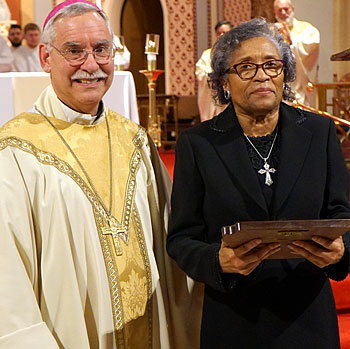 The first memorial Mass to honor Dr. Martin Luther King Jr., whose national holiday is celebrated Jan. 18, will be held at St. Peter Church in Pine Bluff at 4:30 p.m. on Wednesday, Jan. 13. During the Mass there will be a guest speaker, the choir will sing freedom songs, and an award will be given to a parishioner who is active in his or her community. Normally, during the diocesan Mass at the Cathedral, the Daniel Rudd Award is given to a black Catholic who is active in his or her parish and community, but this award will not be given this year.
The second and third Masses will be held on Sunday, Jan. 17. A memorial Mass will be celebrated at St. Bartholomew Church in Little Rock at 8:30 a.m. and at St. Augustine Church in North Little Rock at 10:30 a.m. Father Warren Harvey will be the featured speaker during both Masses. For more information about these Masses, please contact Rosalyn Pruitt at (501) 375-9617.
In 2020, Bishop Taylor presented the Daniel Rudd Award to Brenda Baker, a religious education co-director at St. Peter Church and St. Raphael Church in Pine Bluff and St. Justin Church in Star City. Baker, a retired teacher, also contributes to St. Peter Church as a lector, Vacation Bible School teacher and member of the parish council.
Daniel Rudd was a former slave who lived in Marion, Arkansas, and started the first National Black Catholic Congress. He published the first black Catholic weekly, the American Catholic Tribune, in 1886. He died in 1933.