Seminarians take steps in discernment
Published: January 20, 2016
For the first time, the installation of reader, acolyte and candidacy for Diocese of Little Rock seminarians was held in Arkansas, instead of at the men's seminaries. The 2015 installation was held Saturday, Dec. 19 at Our Lady of Good Counsel Church in Little Rock for 14 seminarians with a reception held in the gym following the 4:30 p.m. Mass.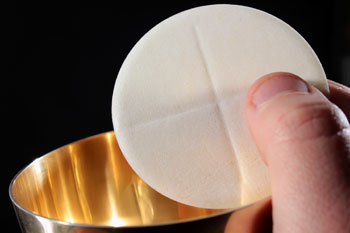 The admission to candidacy was celebrated for Martin Siebold, Stephen Hart, Michael Johns, Ramsés Mendieta, William Burmester and Luke Womack. Acolyte and candidacy was conferred on Daniel Ramos. The admission to candidacy is conferred on men who have demonstrated the necessary qualifications for ordination.
Stephen Elser, Joseph de Orbegozo, Keith Higginbotham, Patrick Friend and Robert Smith were installed as acolytes. Acolytes are commissioned to serve at the altar at Mass, assist in the purification of Communion vessels and are charged to take holy Communion to the sick. Tuyen Do and Jon Miskin were installed as readers. Readers proclaim the Word of God during liturgies and catechize the faithful.
Seminarian Martin Amaro was installed as a reader Jan. 10 during a Mass at the Pontifical North American College in Rome. During the rite Bishop Paul R. Gallagher, secretary for the relations with states in the Vatican, presented each candidate with the lectionary, the book containing the readings from Scripture that are proclaimed at Mass.