Pope: Getting 'vaccinated is an act of love'
Published: August 19, 2021
COVID-19 Vaccine Locations in Arkansas
Click on the button above to find a vaccine clinic near you. UPDATE 2022: All Arkansans age 6 months or older are now eligible to receive the vaccine. There is no out-of-pocket expense for the vaccine. Bring your insurance card to the clinic. If you do not have insurance, the vaccine will be available at no charge. Some are first-come, first-served, others allow you to make an appointment. Visit the website for details or call the Arkansas Department of Health Vaccine Clinic Call Center at (800) 985-6030 in English and press 2 for Spanish. For vaccine clinic information in Spanish, call (800) 232-0233 and press 2.
"Vaccination is a simple but profound way of promoting the common good and caring for each other, especially the most vulnerable." — Pope Francis, Aug. 18. 2021
"Thanks to God's grace and to the work of many, we now have vaccines to protect us from Covid-19," said Pope Francis in a public service announcement released Aug. 18 in Rome. "Being vaccinated with vaccines authorized by the competent authorities is an act of love. And contributing to ensure the majority of people are vaccinated is an act of love — love for oneself, love for one's family and friends, love for all people." | Catholic COVID Resources
The video message was part of a global effort by the Ad Council and the COVID Collaborative's "It's Up To You" campaign to increase people's confidence in COVID-19 vaccines by explaining that vaccines are safe, effective and save people's lives. The Vatican's Dicastery for Integral Human Development also cooperated with the educational initiative.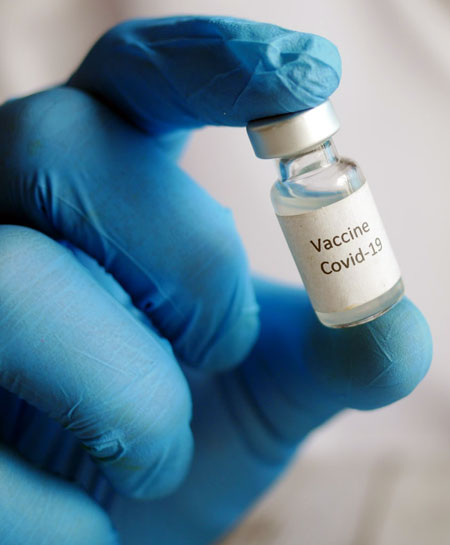 The three-minute video features the Holy Father and six cardinals and archbishops from North and South America. Archbishop José H. Gomez of the Archdiocese of Los Angeles, president of the U.S. Conference of Catholic Bishops, is among them.
Pope Francis added that vaccines "bring hope to end the pandemic, but only if they are available to all and if we collaborate with one another." Watch the video message at the end of this article.
Bishop Anthony B. Taylor has addressed the need to be vaccinated several times since last December. He addressed the moral concerns some may have, the vaccine options available and stressed that not getting vaccinated is a "threat to the common good."
"The failure to be vaccinated when one can is therefore a threat to the common good, which all Catholics have a duty to uphold," he wrote in a July 9, statement to the people of the Diocese of Little Rock. "Moreover, those who are eligible but who fail to get vaccinated could also jeopardize the health and wellbeing of those who are currently ineligible or unable to be vaccinated — which is all the more reason to get vaccinated."
"The vaccine is effective in preventing most infections, even of the delta variant, and vaccinated people who do become ill generally experience a much milder case than otherwise," he wrote on July 27. "Moreover, the vaccines are the best way to minimize the degree to which the virus can keep mutating. The vaccine' s connection with abortion-derived fetal cell lines is very remote, and our cooperation with such acts via receiving the vaccine is passive (no active cooperation), and so the Vatican has declared their use 'morally acceptable' given the grave danger of the pandemic."
The Arkansas Department of Health (ADH) maintains a website listing all the vaccine clinics across the state. According to the website, all those age 12 or older are eligible to receive the vaccine and there is no out-of-pocket expense to receive it. Those to be vaccinated should bring their insurance card to get it but those without insurance are still able to get the vaccine at no charge.
Some vaccine clinics are first-come, first-served, while others allow you to make an appointment. Visit the website for details or call the ADH vaccine clinic call center at (800) 985-6030 in English and press 2 for Spanish. For vaccine clinic information in Spanish, call (800) 232-0233 and press 2. The Centers for Disease Control and Prevention maintains a nationwide directory of COVID-19 vaccine clinics that allows you to search by vaccine and clinics with appointments available.
Karen DiPippa, director of Westside Free Medical Clinic, echoed the words of Pope Francis. The vaccine "protects not only the person being vaccinated but also the universal family to which we belong and are called to protect, nourish and love." Her clinic, a ministry of Catholic Charities of Arkansas, serves people 18 years and older who are unable to afford routine health care in English and Spanish.
"Just like the seasonal flu shot, the COVID-19 vaccine may not keep you from coming in contact with the virus but it will protect one from serious consequences like hospitalization, ventilators and death," she added.
---