Mass for Life set for Jan. 16 in Little Rock
Published: January 11, 2022
Bishop Anthony B. Taylor will lead the Diocese of Little Rock in its annual Eucharistic Procession for Life and Mass for Life Sunday, Jan. 16 to mark the 49th anniversary of the U.S. Supreme Court's Roe v. Wade and Doe v. Bolton decisions that legalized abortion in the United States in 1973.
Eucharistic Procession and Mass for Life
The observance begins with the Eucharistic Procession for Life at 10 a.m. in the plaza in front of the DoubleTree Hotel in Little Rock. The procession will go through Riverfront Park and conclude at the Statehouse Convention Center where the bishop will celebrate the Mass for Life at noon in the Wally Allen Ballroom.
To help prevent the spread of COVID-19, Catherine Phillips, director of the Respect Life Office and organizer of these events, said masks will be available and encouraged, and participants will have plenty of room to distance from each other. "We hope that people have been vaccinated and boosted, but we realize that some people have not been able to do that. And we want to make it as safe an environment for everybody as possible," she said in an interview with Arkansas Catholic.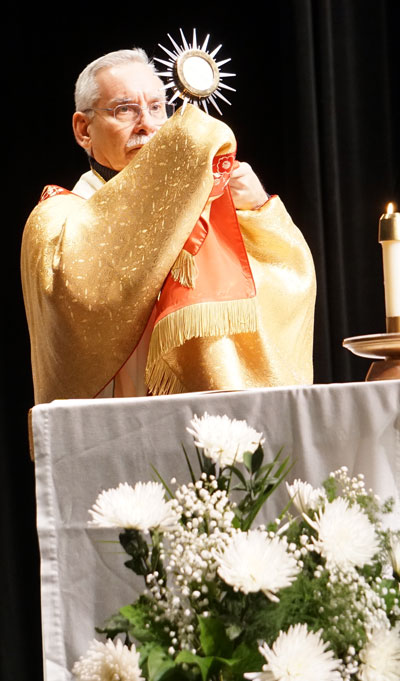 Those who are sick or immunocompromised are advised to stay home, but all others are encouraged to attend. "Bishop Taylor's very excited to preside at this Mass so we can all come together and celebrate the gift of life that we've been given and to pray for an end to everything that promotes a culture of death, all the evils in our world," Phillips explained.

The day before, adults are invited to attend the annual Hearts for Life Conference on Saturday, Jan. 15 from 5 to 8 p.m. at St. John Catholic Center in Little Rock. This event is free to attend and includes dinner. Optional accommodations are available for those who wish to stay overnight by reserving a room in Fletcher Hall for $25 per person, which includes breakfast. Advance registration is required. Register by emailing Phillips at cphillips@dolr.org or calling her at (501) 664-0340, ext. 326.
The theme, "Speaking, Acting and Listening to Proclaim the Gospel of Life," will focus on abortion, miscarriage and how the Church acknowledges life at every stage, the human dignity of every life and the work of the worldwide "Synod on Synodality," launched by Pope Francis.
March for Life
After the Mass for Life on Sunday, Jan. 16, the 44th annual March for Life, hosted by Arkansas Right to Life, will take place in downtown Little Rock at 2 p.m. starting behind the State Capitol at West Capitol and Wolfe Streets. Father Taryn Whittington, associate pastor at Christ the King Church in Little Rock, will be the featured speaker.
For more information about the eucharistic procession or Mass, please contact Phillips, in the Respect Life Office, at (501) 664-0340, ext. 326, or read Arkansas Catholic. To learn more about the march, contact Rose Mimms, director of the Arkansas Right to Life, at (501) 663-4237.
4 Virtual Ways to Proclaim Gospel of Life
For those unable to attend these events in person, there are four ways to proclaim the Gospel of Life virtually with Catholics across the nation.
Pray the Nine Days for Life novena from Jan. 19-27. The U.S. bishops' Committee on Pro-Life Activities sponsors this annual event, which focuses on prayer to respect and protect every human life with a different prayer intention each day in English or Spanish. Each petition is accompanied by a short reflection, list of suggested actions and related information. To have these sent to you automatically, subscribe to receive the novena and daily text messages. An app is available in English and Spanish. Or follow this campaign on Facebook.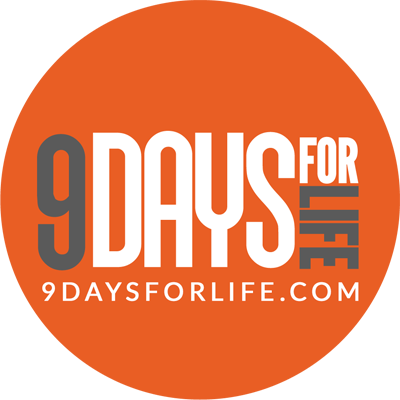 2. National Prayer Vigil for Life
Watch the National Prayer Vigil for Life, Jan. 20-21, at the Basilica of the National Shrine of the Immaculate Conception in Washington, D.C. This event is an all-night, pro-life, prayer vigil held on the eve of the national March for Life. You can watch online or on television. It begins on Thursday, Jan. 20 with Mass at 5:30 p.m. followed by the Holy Hour for Life at 7 p.m., which will be livestreamed on www.nationalshrine.org/mass and broadcast on EWTN. From 8 p.m. to 8 a.m. the next morning, bishops in dioceses across the United States will be livestreaming holy hours. To see the full listing for the overnight hours, please click here. The prayer vigil concludes Friday, Jan. 21 with morning prayer, benediction and the closing Mass at 8 a.m., which will also be livestreamed and broadcast live.
3. Virtual Cardinal O'Conner Conference on Life
Participate in the Virtual Cardinal O'Conner Conference on Life, Saturday, Jan. 22. This free event will be held from 1 to 4 p.m. (central time) with keynote speaker Bishop Robert Barron. To attend, register online through Eventbrite. This conference has become the largest collegiate, pro-life conference in the United States. Rooted in the Catholic tradition, the conference is named in honor of Cardinal John O'Connor, who principally committed himself to advocate for the defenseless and eloquently defend pro-life positions.
4. Day of Prayer for the Legal Protection of Unborn Children
Observe the Day of Prayer for the Legal Protection of Unborn Children Saturday, Jan. 22. "In all the Dioceses of the United States of America, Jan. 22 shall be observed as a particular day of prayer for the full restoration of the legal guarantee of the right to life and of penance for violations to the dignity of the human person committed through acts of abortion." (General Instruction of the Roman Missal, no. 373) As individuals, we are called to mark this day through the penitential practices of prayer, fasting and/or giving alms. Learn more by visiting the U.S. Conference of Catholic Bishops or see resources for the day.