Fuerza Transformadora supporting couples
Published: March 2, 2020
Fuerza Transformadora (Transforming Force) is sponsoring a Spanish-language retreat for couples March 28 in the parish center at St. Theresa Church in Little Rock to focus on not taking your spouse for granted, always showing love, and the fact that God gives us the partner we need, not necessarily the one we ask for.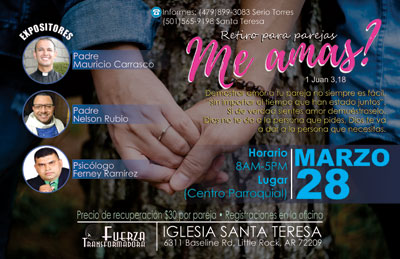 Serio Torres is a former gang leader who created Fuerza Transformadora in 2006 to reach people who are struggling with drug and alcohol addictions, gang life and violence and help them learn about God and change their lives.
Speakers at the couples retreat will be Fathers Mauricio Carrasco, Nelson Rubio and psychologist Ferney Ramírez. Titled "Me Amas?" ("You Love Me?"), this daylong retreat is based on 1 John 3:18 "Children, let us love not in word or speech but in deed and truth." The cost is $30 per couple. To register, contact Serio Torres, diocesan associate director of faith formation, at (501) 664-0340, ext. 434. Several other Fuerza Transformadora events are scheduled throughout the year. Visit calendar to learn more.
---