Family assistance calls come year-round
Published: July 10, 2018
The following article was originally published in Catholic Charities Connections, a special section of Arkansas Catholic, on June 16, 2018.
During the past 11 months, nearly 600 people contacted the Family Assistance Program of Catholic Charities of Arkansas (CCA). People throughout the state, though mostly in the Little Rock area, are referred to us through other charitable organizations, social service organizations, medical facilities and utility companies.
Google searches for financial assistance bring up Catholic Charities, as do searches for utility assistance and rental assistance. Utility companies provide customers with lists of organizations that sometimes help with bills and now, even apartment complexes are doing the same.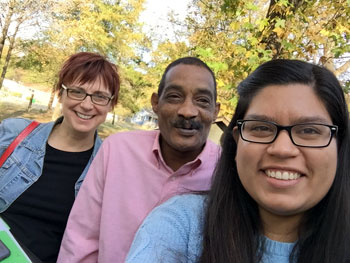 Rebecca Cargile (left), coordinator of the Family Assistance Program,
and social work intern Sophia Dulanto (right) assist client Rodney
Robinson.
The Family Assistance Program's (FAP) funding comes from the annual CRS Rice Bowl collection, donations from St. Nicholas Partners, individual donors and the Catholic Charities Poor Fund. A small amount of $18,000 was budgeted for the year, allowing for a $1,500 per month guideline.
The callers and their needs are tracked, which helps estimate the number of unduplicated callers. Approximately 54 people have contacted the FAP each month with requests that far outstripped available resources. If even half that number were given just $100 financial assistance each month, an additional $1,200 per month would be needed.
Catholic Charities benefits greatly from the generosity of the people in the Diocese of Little Rock. Shortfalls are not because people are stingy, but because the need is so great, said family assistance coordinator Rebecca Cargile.
Monthly FAP funds are rapidly depleted. Most of the time, a person who needs long-term help belongs to a parish that is already helping. However, a parish alone can't always financially see the parishioner through a crisis and will contact Catholic Charities. There are times when FAP alone cannot adequately support the parish's efforts.
In these cases, Catholic Charities works to find supplemental resources. FAP coordinates with other Catholic Charities departments and works with parishes. It also reaches out to lay organizations, such as the Ladies of Charity of Arkansas and Society of St. Vincent de Paul conferences. It works closely with the family assistance program at Sacred Heart of Jesus Church in Hot Springs Village.
The FAP had a budget of $18,000. But, because others were willing to collaborate, $25,305.28 was distributed through FAP. The following explains who was helped with this money:
A total of 50 individuals or households received financial help through FAP from July 2017 to May 2018. Fifteen of the 50 were helped more than once because of the nature of the need.
Fifty-two percent were callers who found us directly while 48 percent were members of parishes, were referred by parishes, were clients of other Catholic Charities programs or connected to us in similar ways.
Inexpensive needs met included motel stays, gasoline, groceries and small utility bills.
Mid-to-high range needs include most utility, rent/mortgage and funeral assistance.
People who received help with extraordinary or long-term needs include a liver transplant patient, two cancer patients and a brain surgery patient.
For more information about the Family Assistance Program or to make donation, e-mail Rebecca Cargile or call her at (501) 664-0340.