Donate to help victims of natural disasters
Published: October 3, 2018
The U.S. Conference of Catholic Bishops (USCCB) is asking Catholics across the country to take up an emergency special collection to help the Church respond to immediate needs for water, food, shelter, and medical care, and aid in long-term recovery and rebuilding as a result of natural disasters in 2018. Bishop Anthony B. Taylor announced that the 2018 Disasters Collection will be taken up in all the parishes in the Diocese of Little Rock Oct. 6-7.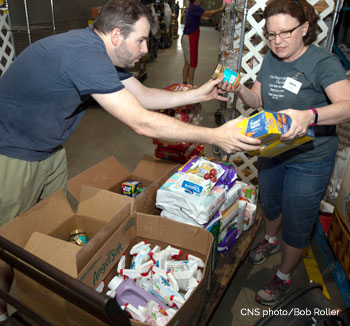 "The poor are always hit hardest and there is a tremendous unmet need," wrote Bishop Taylor in a letter to be read at all Masses. "It is a blessing for those in need that the Catholic community, especially from within our diocese, has a long and faithful tradition of responding with great generosity. We offer our prayers to families who have, and to those who will, suffer loss and injury." Read this letter in English or Spanish.
Donations may also be mailed directly to the diocese. Please note "2018 Disasters Collection" on the memo line of the check and address it to:
2018 Disasters Collection
Finance Office
Diocese of Little Rock
P.O. Box 7565
Little Rock, AR 72217-7565
For more information, contact Dianne Brady, diocesan director of the Stewardship and Development Office, at (501) 664-0340, ext. 391.