Diocese closes because of weather Jan. 17
Published: January 17, 2018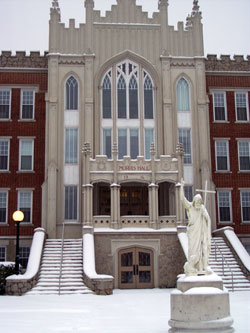 The offices of the Catholic Diocese of Little Rock are closed Wednesday, Jan. 17 because of inclement weather. All Catholic schools in Little Rock and North Little Rock are also closed. Catholic schools in other areas of Arkansas are closed as well. To find out if the school is closed in your area, visit the Catholic Schools Directory to find contact information.
The diocese and Catholic schools in in Little Rock and North Little Rock were also closed Tuesday, Jan. 16 because of snow. The websites for local television stations post school closings. Visit these regularly to find out if weather-related closings will continue tomorrow.
To reach a member of our staff, visit our staff directory and click on the name of the person you wish to reach to send an e-mail. Leave a phone message by calling (501) 664-0340. He or she will respond when the offices reopen. Thank you for your patience.
For information about other Catholic ministries and programs, please visit our ministry directory for a list of programs statewide. To contact a diocesan ministry or program, click on the name of a diocesan office and then click "contact us" under the office title to find staff, e-mail and phone number.