Deacon candidates installed as acolytes
Published: September 23, 2020
Bishop Anthony B. Taylor installed 48 men as acolytes during a private Mass at Christ the King Church in Little Rock on Saturday, Sept. 12. These men are in formation for the permanent diaconate in the Diocese of Little Rock, a process that began in 2017. The Mass was not open to the public to safeguard against COVID-19.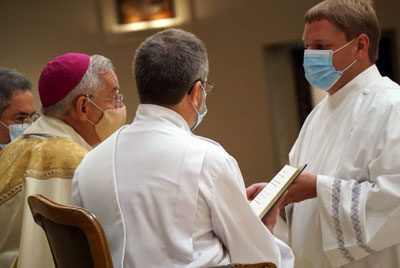 During the Mass, Father Erik Pohlmeier, diaconate formation director, introduced each man, and then Bishop Taylor presented each new acolyte with a paten to symbolize the service the acolyte can provide during Mass. As acolytes, they will serve during liturgies, help distribute holy Communion and purify sacred vessels. These men are scheduled to be ordained deacons in June 2022.
"It will be your responsibility to assist priests and deacons in carrying out their ministry," the bishop explained to the candidates during his homily. "So you, like them, should strive to live a life of sacrificial love modeled on that of Jesus, who gave his life for our salvation and is the victim we offer to the Father every time we celebrate the Eucharist."
To see the list of names of the new acolytes, go to Arkansas Catholic. To learn more about the candidates, visit our Deacon Candidate Directory. If you have questions about the permanent diaconate formation process, email Deacon Mark Verkamp, associate director of permanent diaconate formation in the Office of Faith Formation, or call him at (501) 664-0340.
---