Charities to apply for CCHD grant by May 31
Published: May 17, 2019
Apply for CCHD Grant in Arkansas
Click on the link above to apply online for a Catholic Campaign for Human Development (CCHD) grant in Arkansas. The deadline to apply is May 31. To learn more, contact Patrick Gallaher at (501) 664-0340, ext. 352.
Catholic Campaign for Human Development (CCHD) at the Diocese of Little Rock awards a limited number of small grants to provide financial assistance to organizations whose efforts are aimed at serving the needs of low-income people. Projects eligible for funding can either be direct service-oriented, or aimed at institutional change.
Applications are accepted without regard to religious denomination. Grants between $200 and $2,000 are awarded. Organizations seeking a local grant, may apply online through May 31. Grants will be awarded for the fiscal year July 1, 2019 to June 30, 2020.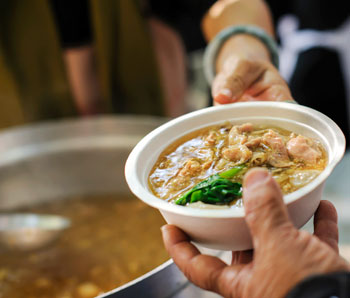 In 2018 more than $15,000 was distributed to 25 organizations in Arkansas. These include: Alpha House Homeless Shelter in Mountain Home; Hannah Pregnancy Resource Center, El Dorado; Charleston Ministerial Alliance Food Pantry; Community Outreach Services, Paris; Cabot's Feed the Veterans; St. Joseph Soup Kitchen, Blytheville; St. Theresa School, Little Rock; and Society of St. Vincent de Paul conferences at St. Anne Church, North Little Rock and Blessed Sacrament Church, Jonesboro. See the complete list of organizations awarded grants.
CCHD is the U.S. Catholic bishops' domestic anti-poverty and social justice program. It has provided more than $400 million in grants for self-help projects developed by grassroots groups nationwide. The projects' successes and the relationships developed have significantly changed the lives of the poor in the United States. Visit the CCHD Q&A to learn more.
This program is funded by parishioners who contribute to the annual appeal in November. Twenty-five percent of the money collected in the Diocese of Little Rock remains in Arkansas to fund local grants, which are administered by Catholic Charities of Arkansas' Social Action Office. For more information, contact Patrick Gallaher at (501) 664-0340, ext. 352.
The remaining 75 percent of the CCHD collection from every diocese is sent to the CCHD national office, which is used to provide national grants. To apply for a CCHD grant on the national level, call Catholic Charities of Arkansas at (501) 664-0340 before applying. National grant applications are accepted in the fall. For more information, visit the national CCHD Office at the U.S. Conference of Catholic Bishops.
---