Celebrate worth during Respect Life Month
Published: September 30, 2015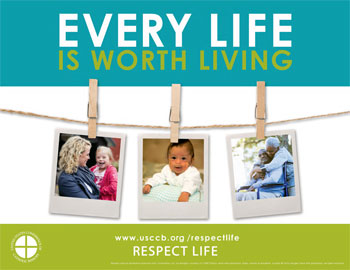 "Ours is a dignity that is rooted in the fact that we were created in love and redeemed in love by God himself, who is unchanging. Regardless of any circumstances, this God-given dignity can never be decreased." — Pope Francis, Science and Life Association address, May, 30, 2015
Each October, the Catholic Church celebrates Respect Life Month to proclaim the "God-given dignity" of every person from conception to natural death. "The love of Christ urges us (2 Corinthians 5:14) to make ourselves the servants of the small ones and of the old, of every man and every woman, whose the primordial right to life is to be recognized and protected," the pope said.
"Every Life is Worth Living," the theme for the 2015-16 Respect Life Program, reflects this truth. This program begins on Respect Life Sunday, Oct. 4. The U.S. Conference of Catholic Bishops offers resources to help you celebrate with your family or in your parish, including novenas and intercessions for life, posters and flyers, pamphlets and articles for group discussion on a variety of topics and more.
In Arkansas, consider taking part in the 40 Days for Life campaign which began Sept. 23 and continues through Nov. 1. Visit the 40 Days for Life website to find a campaign in your area. Several cities will also host a Life Chain on Respect Life Sunday. Visit Arkansas Catholic to find a list of locations. For more information, contact (501) 664-0340, ext. 326.