Celebrate National Bible Week Nov. 15-21
Published: November 13, 2015
National Bible Week will be celebrated across the United States Nov. 15-21. The theme: "The Bible: A Book for the Family," invites us to celebrate the importance of the Word of God in the life of our domestic church: the family. This observance builds on the recent Synod of Bishops on the Family and Pope Francis's visit to Philadelphia for the World Meeting of Families.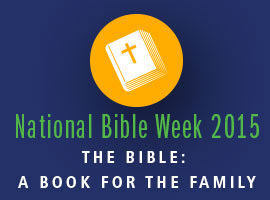 Little Rock Scripture Study, an international, Catholic Bible study program based in Little Rock, is offering free, daily reflections for use in your homes and parishes throughout the week. They are available in English and Spanish.
Followers of Little Rock Scripture Study's Facebook page will also see the reflections posted daily during National Bible Week. Written by Clifford M. Yeary, associate director of Little Rock Scripture Study, the reflections include study questions for group discussion.
In an e-mail detailing the material, Cackie Upchurch, director of Little Rock Scripture Study, wrote, "We'd love to blanket our church with this rich resource which is also simple to use. Imagine the power of intentionally focusing on the Bible in our homes during this time."
National Bible Week also brings attention back to 2015 being the 50th anniversary of the Second Vatican Council's Dogmatic Constitution on Divine Revelation ("Dei Verbum"). Little Rock Scripture Study published "The Word of God at Vatican II: Exploring Dei Verbum," a special study to reflect on the document that "set forth the Catholic Church's official teaching about divine revelation and the complex interrelationship between Scripture and Tradition." It is available for purchase on Little Rock Scripture Study's website.
Little Rock Scripture Study is a ministry of the Diocese of Little Rock. For more information, visit the website or call (501) 664-0340 or (501) 664-6102. For additional resources and ideas on how to celebrate National Bible Week, visit the U.S. Conference of Catholic Bishops or the Association of Catholic Publishers.