2018 MLK Memorial Mass to be Jan. 13
Published: January 8, 2018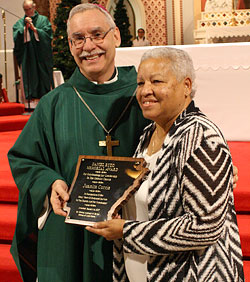 The 32nd annual Dr. Martin Luther King Jr. Memorial Mass will be held at 4:30 p.m., Saturday, Jan. 13 at the Cathedral of St. Andrew in Little Rock. Bishop Anthony B. Taylor will be the main celebrant. The Mass is sponsored by the Diocesan Council for Black Catholics.
During the Mass the Daniel Rudd Award will be handed out to two black Catholics who are active in their parishes and community. To learn more, contact Rosalyn Pruitt at (501) 375-9617.
In 2017, Bishop Taylor presented the award to Juanita Currie, a member of St. Peter Church in Pine Bluff (see photo). Currie served as co-chair of the parish's Saturday Soup Kitchen as well as serving as a board member for Neighbor to Neighbor, a food pantry in Jefferson County and president of the parish finance committee. She is also a wife and mother. Learn more by reading Arkansas Catholic.
Daniel Rudd was a former slave who lived in Marion, Arkansas, and started the first National Black Catholic Congress. He published the first black Catholic weekly, the American Catholic Tribune, in 1886. He died in 1933.