Wednesday, March 1, 2023 - Wednesday, May 17, 2023
Location: Online via Zoom
Contact: Project Rachel
Phone: (501) 663-0996 (confidential, direct phone line - call or text)

Hope and Healing, a free 12-week online Bible study for women who have been wounded by abortion, will begin at 6 p.m., Wednesday, March 1 via Zoom. It will continue each Wednesday from 6 to 7:15 p.m. through May 17. Registration is required by Feb. 22.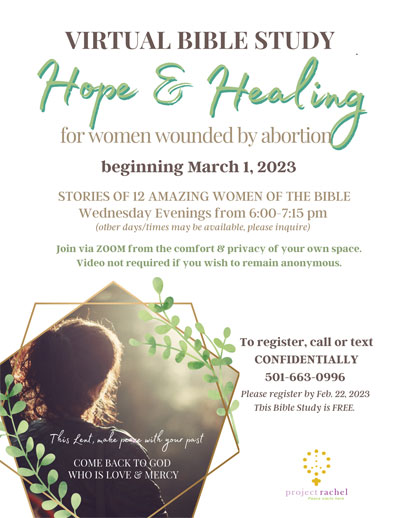 During this study, participants will explore the impact of past abortion decisions on their lives, and discover what they need to do to heal from these traumatic experiences.
On this journey of self-discovery and empowerment participants will read the stories of 12 amazing women in the Bible, and together, learn how these women faced the same struggles and challenges we face, and through their example gain insight into what we can do to make changes in our own lives so that we can move forward from lingering grief, shame, guilt, fear, and pain to acceptance, forgiveness, trust, peace, love and joy.
Any woman, anywhere, can participate from the comfort of her own space, either anonymously or with a virtual group of soon-to-be friends. Call or text (501) 663-0996 or email projectrachel@dolr.org to register. All inquiries are strictly confidential.
Hope and Healing is offered through Project Rachel, a ministry of the Respect Life Office for the Diocese of Little Rock.