Saturday, June 18, 2022
Location: Cathedral of St. Andrew - Little Rock
Contact: Father Juan Guido
Phone: (479) 783-7745

Arkansas Eucharistic Revival Resources
The Diocese of Little Rock will begin its celebration of the National Eucharistic Revival with two opening Masses on Saturday, June 18, the Solemnity of the Most Holy Body and Blood of Christ (Corpus Christi). Bishop Anthony B. Taylor will celebrate one of these Masses at Cathedral of St. Andrew in Little Rock at 4:30 p.m.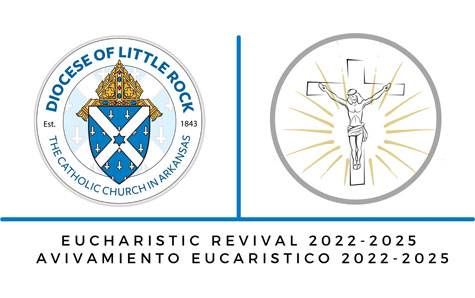 The other will be celebrated at St. Vincent de Paul Church in Rogers. For more information, contact Father Juan Guido, diocesan director of divine worship, at (479) 783-7745.
The National Eucharistic Revival is a three-year, grassroots revival of devotion and belief in the real presence of Jesus in the Eucharist. It begins nationwide on the feast of Corpus Christi, reaches its climax at the National Eucharistic Congress, July 17-21, 2024, in Indianapolis and concludes on Pentecost Sunday, June 8, 2025, after a year of "going out on mission."
Bishop Taylor explains the need for this event and more in a presentation he gave in February. Read it to learn more or visit our Arkansas Eucharistic Revival resources.