Secretariat
Lay Director: Nancy Christian
Spiritual Director: Fr. Rubén Quinteros
Assistant Spiritual Director: Dc. Greg Pair
Rogers School of Leaders: Therese Rohr
Fort Smith School of Leaders: Dc. Greg and Patty Pair
Little Rock School of Leaders: Vacant
Cursillo Office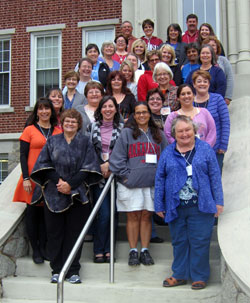 A Christian renewal ministry for adults
The Cursillo movement strives for Christ to be the primary influence in society. Cursillo is a simple method to develop Christian spirituality, mentality, activity and community.
The main objectives of the Cursillo movement in Arkansas are to develop in adult Christians a consciousness of their power and mission to become leaders in the work of Christian renewal, and to sustain them as they provide a Christian leaven in civic, social and economic life.
A Cursillo is an encounter with Christ. That sounds too simple but it's not. Think about it. A real meeting with Christ. If that is understood then the power, beauty and joy of the Cursillo movement will be understood. Interested? See the information below to find out how to attend.
---
School of Leaders
Little Rock School of Leaders: Second Saturdays, 9 a.m. to 12 p.m., St. John Catholic Center, Little Rock
Rogers School of Leaders: Second Saturdays, 9 a.m. to 12 p.m., St. Vincent de Paul Church, Rogers
Fort Smith School of Leaders: Second Saturdays, 2 - 4 p.m. Immaculate Conception Church, Fort Smith
Secretariat
Lay Director: Nancy Christian
Spiritual Director: Fr. Rubén Quinteros
Assistant Spiritual Director: Dc. Greg Pair
Rogers School of Leaders: Therese Rohr
Fort Smith School of Leaders: Dc. Greg and Patty Pair
Little Rock School of Leaders: Vacant