Deacon Candidate — Class of 2022
Rob Brothers, St. Vincent de Paul Church, Rogers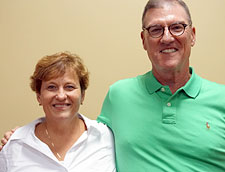 Why do you want to be a deacon?
After long and productive business careers, we feel the Lord is calling us to a deeper life of service to him and to our fellow Catholic church members. We are very open to any ministry needs our pastor would want us to serve. I would also feel blessed to be able to assist the priest at the altar.
Married To: Becky Brothers
Profession: Retired community banker and charitable foundation program director; current vice chairman of the Board of Directors at Arkansas Blue Cross Blue Shield
Interests and Hobbies: I walk four miles each day and do a weight workout three times per week to stay strong and healthy. I love all kinds of music, and I sing and play guitar. We love to spend time with our four children and spouses, our 13 grandchildren and our one great-grandchild. We volunteer regularly in our church food pantry and other parish ministries.