2021 — II Theology
Emmanuel Torres, St. Edward Church, Little Rock
Attends St. Meinrad Seminary, Indiana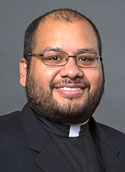 I started thinking about the priesthood when I met two seminarians at my parish. I saw something special in them that sparked my curiosity to think about my vocation.
I started discerning the priesthood when I attended the Diocese of Little Rock Come and See Retreat. After the retreat I spoke with Msgr. Friend and he became my spiritual director for two years.
After the two years, he invited me to enter the House of Discernment, now called House of Formation. I completed three years of philosophy from St. Gregory's University in Oklahoma and obtained a bachelor's degree in social work from the University of Arkansas at Little Rock.
I then moved to St. Meinrad in Indiana. I completed my last year of philosophy and I am now studying theology. Upon my completion of theology, God willing, will be my ordination!
In the seminary, before school starts, we have an intensive spiritual week. The rector of the seminary told us that, "It is not the time for discerning anymore. It is time for you to be formed as priests; to be formed as the kind of priest you want to be. In the process, God will let you know if you are called to the priesthood."
His words are on my mind constantly, in my prayers, in my school and in my ministry. I see ordination very close; it is a mix of feelings. I'm nervous but at the same time happy, very happy.
Last school year, I worked at the Boys and Girls Club in Evansville, Indiana. I had the opportunity to be around children from the ages of 6 to 13 years old. I was there to play with them, but most importantly, to be with them.
I heard some of their stories and was surprised to learn how some of them have a very hard life at such a young age. I am glad that I was able to spend time with them and make a small difference in their lives.
This summer, I was assigned to St. Mary in Batesville and St. Cecilia in Newport. I was happy to be able to spend a summer with these two communities. Father Stephen Gadberry told me: "You are ready to have a little taste of a priest's work."
Please pray for me and my brother seminarians, for our vocation. Pray that we can be formed to become good priests, to see God in every person we encounter. Thank you for all your prayers and support.
---