2021 — III Theology
Emmanuel Torres, St. Edward Church, Little Rock
Attends St. Meinrad Seminary, Indiana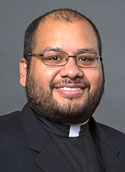 I started thinking about the priesthood when I was 21 years old. It started out as a curiosity about the priestly life. I met two seminarians in the youth group at St. Edward's in Little Rock. I wondered what they saw in the priesthood and wondered why they wanted to become priests. After talking with Msgr. Scott (Friend) for a couple of years, I began to feel the desire to become a priest.
Throughout these years in formation, I felt this call from God to the priesthood and have learned to love my vocation. I am discovering how to love and serve the people of God as a priest. This journey has been a very interesting and emotional journey. I stayed in the House of Formation for a few years. I had the opportunity to obtain a bachelor's degree in social work and study philosophy. Living at the House of Formation was a great experience. I met great friends and it served as a foundation for my formation.
The next step in my formation was attending St. Meinrad Seminary and School of Theology. Here is where I have been studying theology. The first thing I noticed at St. Meinrad was the unity and support of my brother seminarians. They made my transition to seminary life much easier. At St. Meinrad I faced new challenges and have always viewed them as being a blessing from God. We receive human, pastoral, spiritual and intellectual formation in the seminary. We receive all the help we need to become better men that serve the Church.
Every year I get closer to my ordination. God willing, in the near future, I will be ordained a deacon. I am very happy about it. I never thought I would go all this way but thanks to God, to our bishop, to Msgr. Scott, to my brother seminarians, and to my willingness to follow God's call I have been able to get closer to ordination.
In 2018 I had the opportunity to spend time in a parish for the whole summer. I had the opportunity to learn more about the daily life of a priest. Meeting the people in the parish reinforced my call to the priesthood. This past summer I participated in hospital ministry called Clinical Pastoral Education (CPE). On Mondays I had classes and from Tuesdays to Fridays I visited patients.
There were happy days and sad days, but every single time I found an opportunity to see God's face in the people. Many times I questioned myself as to whether I would be able to bring Christ to a patient, but every time Christ surprised me. He is the one that does all the work. It is a beautiful ministry full of emotions.
Please pray for me and my four other brother seminarians in my class as we approach our diaconate ordination in less than a year.
If you wish to contact Emmanuel Torres, please e-mail Miriam Gallaher in the Vocations Office or call her at (501) 664-0340. This article was published Sept. 17, 2019. Copyright Diocese of Little Rock. All rights reserved. This article may be copied or redistributed with acknowledgement and permission of the publisher.