2019 — IV Theology
Dc. Jon Miskin, Christ the King Church, Little Rock
Attends St. Meinrad Seminary, Indiana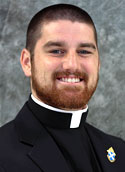 My heart is filled with thanksgiving as I look back at my first several years in the seminary. They have been incredibly formative years for me as I look to deepen my love for Christ and his vocation for me each and every day.
One thing that has been a focus for me is Jesus' call to leave everything behind and follow him. The interesting thing was that I thought I had been doing that when I initially entered the seminary. I thought that by submitting to his will, I had truly dropped everything so I could follow him. In fact, that was what motivated me to enter the seminary in the first place.
My vocation journey really begins with being surrounded by love: the love of my family. This love, although ultimately from God, came from the love between my parents. They were able to show me what it truly means to love. I am nothing without this solid base of love through my parents and five brothers and sisters.
With this foundation of love, God immediately tried to start directing that love to the priesthood. Instead of responding to that call with joy, I spent the majority of my life running away from it. Instead, I had my own plans. I wanted a good job, a beautiful wife and a family filled with the same love I experienced growing up.
I want, I want, I want. That all changed when God spoke to my heart saying: "Jon, what do I want for you?" As I have reflected on those words these last couple of years, I have been able to see how God's will is actually my will in my life. He knows what I want even more than I know what I want.
I am no longer running from him. God has called me to the seminary in order to become his priest. With love and joy in my heart, I will answer that call. With that, I thought I had dropped everything to follow Christ. Recently, I found that I have much more to give our Lord.
A great challenge and blessing I experienced was the opportunity to participate in hospital ministry at Children's Hospital in Dallas. It was through my experiences in the hospital that I realized with what abandon it takes to truly pick up my cross and follow him.
As I walked into room after room in the hospital, I realized I could not do this. These patients and their families didn't need Jon Miskin to come in and try to comfort them. I had nothing to offer them. My only hope in ministering to those people in the hospital was to step aside and let the light of Christ shine in my heart.
It was a real struggle to allow myself to let go of the control. But that is what the patients needed. They needed the purely self-sacrificing love of Christ on the cross. I hope to bring this in every part of my life; that is, stepping aside and allowing Christ to guide my words and actions.
It is a constant struggle, as I always want to have that control, but I am slowly learning to let go of everything and truly follow him.
---