Bishop to ordain Dc. Miskin a priest May 25
Published: May 20, 2019
Bishop Anthony B. Taylor will ordain Deacon Jon Miskin to the priesthood at 10 a.m., Saturday, May 25 at the Cathedral of St. Andrew in Little Rock. A reception will follow the ordination Mass in McDonald Hall.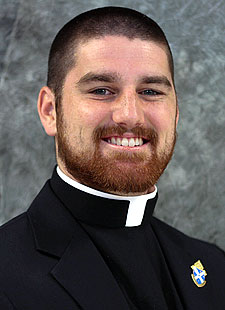 The night before, on Friday, May 24, a holy hour will be held for Miskin at 6:30 p.m. at the Cathedral. During eucharistic adoration and vespers, prayers will be offered for him and an increase in vocations to the priesthood and religious life. All are invited to attend these events. If unable to come, set up a notification on your phone to watch the ordination live.
Miskin, 26, will celebrate his first Mass Sunday, May 26 at 10:30 a.m. at Christ the King Church in Little Rock. He is the son of Mike and Anne Miskin. On May 11, Miskin earned his master's degree from the Saint Meinrad Seminary and School of Theology in Indiana. Following his ordination, he will begin his first assignment as a priest on June 12 as associate pastor of St. Raphael Church in Springdale and St. Joseph Church in Tontitown.
Anticipating his ordination, Miskin expressed his gratitude to all the people who helped get him to this point in a recent interview with Arkansas Catholic.
"I'm so thankful to everyone," he said. "I am not here without my parents. I'm not here without my teachers at school. I'm not here without the people of God who I don't even know that will say a prayer for me every night. I would love for people to realize that I'm just so thankful and humbled by the amount of support that I've been given. Just, thanks."
If you are discerning a vocation to the priesthood, e-mail Msgr. Scott Friend, vocations director, in the Vocations and Seminarians Office, or call him at (501) 664-0340.
---