2021 — IV Theology
Dc. Emmanuel Torres, St. Edward Church, Little Rock
Attends St. Meinrad Seminary, Indiana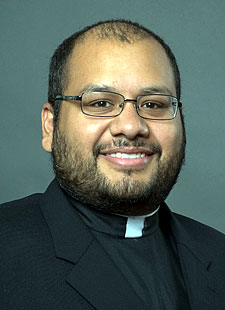 I started thinking about the priesthood when I was 21 years old. It started out as a curiosity about the priestly life. I met two seminarians in the youth group at St. Edward's in Little Rock. I wondered what they saw in the priesthood and wondered why they wanted to become priests. After talking with Msgr. Scott Friend for a couple of years, I began to feel the desire to become a priest.
Throughout these years in formation, I felt this call from God to the priesthood and have learned to love my vocation. I am discovering how to love and serve the people of God as a priest. This journey has been a very interesting and emotional journey. I stayed in the House of Formation for a few years and earned a bachelor's degree in social work and studied philosophy. Now I attend St. Meinrad Seminary and School of Theology.
Every year I get closer to my ordination. God willing, I will be ordained a deacon in August. I am very happy about it. I never thought I would go all this way but thanks to God, I will be ordained deacon soon.
Every summer we are assigned to different ministries. Two summers ago, I was at St. Mary's in Batesville. It was a great opportunity to assist Father Gadberry. He taught me the love of a pastor to his people. Last summer I served in CPE (Clinical Pastoral Education) at Baptist Health as chaplain. It was a difficult experience but very beautiful. I had the opportunity to be present with many people in one of their most vulnerable moments.
This summer is different than what was planned. The plans were to be ordained a deacon in May and to work as a deacon in a parish. The situation that we are all dealing with, the COVID-19 virus, changed our plans. The seminary closed down two months before the semester ended and we had to return to Arkansas to finish our studies. Later the ordination moved to August. I am in a parish but only as an acolyte. My ministry is a little limited with physical distancing. It has been a difficult time but I have been able to learn many things, among them how boisterous we are and our dependence on God; we are here for his mercy.
I look forward to being ordained a deacon. It has been a long journey, but God has kept me here. Please pray for me and for my brother seminarians, especially for those of us who are going to be ordained deacons and priests this year.
If you wish to contact Emmanuel Torres, please e-mail Maria Izquierdo-Roque in the Vocations Office or call her at (501) 664-0340. This article was published July 1, 2020. Copyright Diocese of Little Rock. All rights reserved. This article may be copied or redistributed with acknowledgement and permission of the publisher.
---