Seminarians take steps toward ordination
Published: March 20, 2015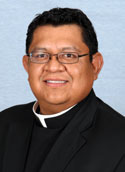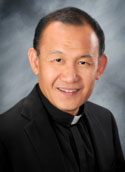 Thirteen seminarians from the Diocese of Little Rock have taken steps toward their ordinations recently. Three made their deacon promises March 5 at Saint Meinrad Seminary in Indiana. They are Dr. Joseph Chan of St. Boniface Church in Fort Smith and Mario Jacobo of Our Lady of the Holy Souls Church and Taryn Whittington of the Cathedral of St. Andrew, both of Little Rock.
Chan will be ordained a deacon May 26 at his home parish and Whittington and Jacobo will be ordained deacons at the Cathedral of St. Andrew May 28.
Four others received the ministry of acolyte Feb. 19 at Saint Meinrad Seminary. They are William Burmester of St. Joseph Church in Conway, Stephen Hart of Christ the King Church in Little Rock, Ramses Mendieta of Immaculate Conception Church in North Little Rock and Luke Womack of St. Mary of the Springs Church in Hot Springs.
An acolyte assists a deacon or priest, primarily in the celebration of Mass. He attends to the needs of the altar and may distribute Communion as an auxiliary minister. He also may be entrusted with the public veneration of the Blessed Sacrament, but does not give the Benediction. Also on Feb. 19 Joseph de Orbegozo, Stephen Elser and Patrick Friend, all of Christ the King Church in Little Rock, and Keith Higginbotham of St. Anne Church in North Little Rock received the ministry of lector at Saint Meinrad.
Two other seminarians were instituted as readers during a Mass March 18 at Sacred Heart Seminary in suburban Milwaukee. Patrick Saint-Jean of Our Lady of Good Counsel Church in Little Rock is on path to graduate in 2018 while Daniel Ramos of Our Lady of Fatima Church in Benton is scheduled to graduate in 2017.