One Church partner is St. Andrew, Danville
Published: September 20, 2021
Click on the button above to donate online to the One Church: Unite Arkansas in Faith and Mission initiative that supports a small mission that needs a leg up to become a thriving community. For more information, contact Megan Moore in Catholic Charities of Arkansas at (501) 664-0340, ext. 379.
Each September a church in Arkansas is chosen to benefit from One Church: Unite Arkansas in Faith and Mission. This year's partner is St. Andrew Church in Danville, a small, rural mission in Yell County. The church was built in 2006 and was able to buy a two-story office building across the highway in 2013 for faith formation classes and retreats. Unfortunately, much of the 7,850-square-foot building, called St. Francis Parish Center, is unusable.
With few usable rooms, religious education classes for pre-kindergarten to fifth grade and sixth to 12th grades are split into two groups, serving 80 children. Small offices have been turned into classrooms, but they can't fit many students. Bathrooms still can hold only one person and have showers and bathtubs that are not needed. The two kitchens in the building are small and in disrepair, unable to serve parish-wide events.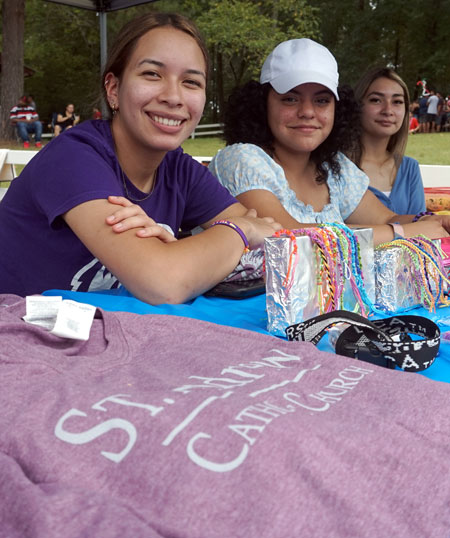 With support from One Church, St. Andrew Church hopes to renovate the bathrooms, remove one kitchen, renovate the other kitchen and remove some walls to make larger classrooms. The room where a sauna and in-ground hot tub once were could be turned into a meeting room or storage area. The parish could also use helping beautifying the 6.5 acres around St Francis Parish Center.
Pastor Father Mauricio Carrasco said the parish has few resources to undertake a major renovation. With attendance down because of the pandemic and no parish fundraiser in 2020, the Hispanic community has been raising as much money as it can by selling food after Mass. To learn more, read Arkansas Catholic or the FAQ.
"The parishioners at St. Andrew in Danville will only be able to transform their St. Francis Parish Center with support from all of us," wrote Bishop Anthony B. Taylor in a letter launching this year's program. "Please do what you can to reach out with the love of Christ to help our sisters and brothers at St Andrew Church in Danville. God willing, our combined efforts will allow their St. Francis Parish Center to be renovated into what they need to spread the faith in Yell County."
One Church: Unite Arkansas in Faith and Mission is a diocesan-wide effort to give a Catholic mission community a one-time boost to accomplish something it cannot do on its own. This initiative began in 2018 to help a mission church in Arkansas, for a 12-month period, meet a specific, financial goal to help the parish better serve its community.
St. Bartholomew Church in Little Rock received $118,465 in 2021 toward building a new parish hall. St. Luke Church in Warren received $163,147 toward the cost of renovating a building to become its new church in 2020. And Holy Spirit Church in Hamburg received $67,950 to reduce its mortgage in 2019.
Families are invited to donate now by making an online gift or mailing a check to: Catholic Charities of Arkansas, 2500 N. Tyler St., Little Rock, AR 72207. Checks should be made payable to: "Diocese of Little Rock-One Church" with the notation "St. Andrew Church Danville." Parishes and Catholic groups that want to participate might find "Nine Ways to Raise Funds" helpful. Find additional resources in the One Church toolkit.