Ministry for abuse victims to begin this fall
Published: September 16, 2019
The Diocese of Little Rock is organizing a chapter of the Maria Goretti Network (MGN), a ministry for those who have been abused, their families, and those who support their recovery. It was named after St. Maria Goretti, the patron saint of abused children and rape victims. Alessandro Serenelli tried to rape her when she was 11 years old. He then stabbed her 14 times and fled. Before she died from her injuries in 1902, she forgave him. While he was in prison, Maria appeared to him in a dream, which led to his conversion. St. Maria was canonized in 1950.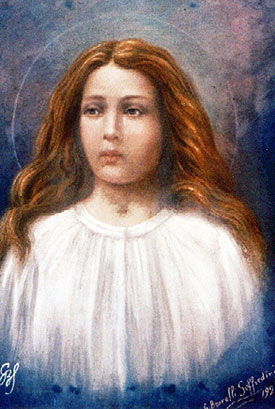 Miguel Prats, an abuse survivor, and Father Gavin Vaverek, JCL, founded MGN near Houston in 2004. Today, there are 10 chapters, mostly in Texas, that aims to help offer healing within the Catholic Church for anyone who has been abused mentally, emotionally, physically or sexually. Although the ministry is Catholic, it is open to anyone who has been abused, including nonbelievers. Read Arkansas Catholic to learn more.
Prats and Father Vaverek will lead an informational meeting regarding the start of a MGN chapter in Arkansas at St. Joseph Church in Conway from 6:30 to 8 p.m. on Friday, Sept. 27. While the information meeting is open to anyone interested in learning more, chapter meetings are open only to abuse victims and their family members.
The diocese hopes to host its first MGN chapter meeting this fall. Father Tony Robbins, pastor of St. Joseph Church, was asked by Bishop Anthony B. Taylor to be the new chapter's spiritual advisor. For more information, contact Father Robbins at (501) 327-6568.
MGN meetings, which are lead by two lay leaders who have suffered past abuse, last 90 minutes and include time for prayer, introductions, personal sharing among men's and women's small groups and group discussion on healing and forgiveness. To learn more about the meetings, principles and ground rules, visit the website.