Memorial of St. Alphonsus Liguori, Bishop, Doctor of the Church
Published: August 1, 2015
Bishop Anthony B. Taylor preached the following homily at a Mass to celebrate the first vows of Sister Marie Rose Carter, OSB, at Holy Angels Convent in Jonesboro on Saturday, Aug. 1, 2015.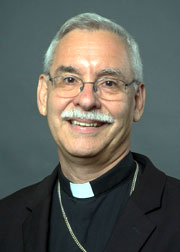 Bishop Taylor
When we read about the early Church, we are struck by the horrible suffering Christians endured at the hands of their persecutors, but probably have a hard time relating to their experience because our lives are comfortable and we face no real persecution. But what we do face may be worse.
Instead of attacking us, the world considers us irrelevant — a peculiar tradition that has little or nothing to do with life in the real world. So let me point out that a Christianity that the world can pass by and not even notice is not the Christianity of the New Testament. And like the rest of you, Sister Rose Marie stands before us today to give witness to a way of life that the people of this world simply cannot understand.
In today's Gospel Jesus says: "You are the salt of the earth." Salt is not easily ignored. Put it in your eyes and it stings. Leave it out of your food and you're going to miss it. Salt is a positive, active influence.
When the night is at its darkest, that is the time when our Church needs to stand out at its radiant best.
He also says: "You are the light of the world." Light cannot be easily ignored either. On a dark night you can see light in the windows of houses way in the distance. Jesus is saying that our light should be visible from that far away. He is founding a religion which the world cannot ignore, and as we see from people's enthusiastic response to Pope Francis, our world is definitely hungry for more of Jesus' kind of Christianity.
1. First of all, Jesus is saying that Christians should stand apart, that there should be as much difference between us and the world as there is between light and darkness. Perhaps that is our problem. The world ignores us as irrelevant because we just blend into the landscape; it doesn't even see us. If there is anything we Christians should be, it's conspicuous. That's the power of your religious habit.
One reason that communities without habits are not attracting vocations may be that they blend in too much. But the inner difference between us and the world is where our real power lies — the fact that we live differently. In world motivated by greed, a nun living the evangelical counsels of poverty, chastity and obedience is going to be noticed. In a world consumed by hatred, a person of self-sacrificing love is hard to overlook.
That's what Jesus meant when he said that "a city set on a mountain cannot be hidden" including this hill on Crowley's Ridge. Your community is called to be different, distinctive, standing out from the landscape like a light glowing in the window of a house in the distance on a dark night. In our case the darkness of today's secular world.
2. Second, Jesus is saying that our faith should make us strong. Light is strong; darkness can never overcome it. As we see from Pope Francis' encyclical letter on the environment, we live in a world that's in trouble: an unjust economic system, diminishing natural resources, global warming, pollution, war. In that kind of world, if we can offer people Good News that makes them strong and gives them hope, everyone would be interested.
And I submit to you that our Catholic faith is that something. Christianity is at home in the midst of trouble: It was born there. Our symbol is the cross. When the night is at its darkest, that is the time when our Church needs to stand out at its radiant best.
If we are true to Jesus and respond faithfully to his call in our life, the world will not be able to ignore uu, and never is that more true than in the case of vowed religious life. That is the witness of the great St. Alphonsus Liguori, whose feast we celebrate today. And Sister Marie Rose, that is to be the case in your life as well. "Your light must shine before others, that they may see your good deeds and glorify your heavenly Father."