Memorial of Immaculate Heart of Blessed Virgin Mary
Published: June 28, 2014
Bishop Anthony B. Taylor preached the following homily during the Mass to celebrate the 50th anniversary of St. Mary of the Lake Church in Horseshoe Lake on Saturday, June 28, 2014.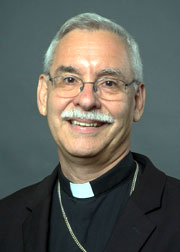 Bishop Taylor
You and I are gathered here today to celebrate your 50th anniversary here at Horseshoe Lake. We recall all the sacrifices made over this half century by so many people — especially the Zanone family — to build this church building, to maintain it, to line up priests from Memphis to offer Mass here when the Diocese of Little Rock was not able to assign a priest here, adapting to sometimes inconvenient Mass schedules when necessary, and so on. Fifty years of faith and commitment, sacrifices, prayer and perseverance. For this I am grateful to God and to you.
But as you know from our readings today, the Church is really the people and yet at the same time a Catholic church building is more than just a place where believers gather. It is also a house of God where Jesus is present in a special way.
1.) In our second reading, St. Paul emphasizes that "you are God's building" but for that building — your faith, your life — to be solid, it has to be built on the foundation of Jesus Christ. And not just beliefs about Jesus that others have taught you and which you have memorized, but a living faith in Jesus arising out of your own personal encounter with his mercy and forgiveness.
A Catholic church building is more than just a place where believers gather. It is also a house of God where Jesus is present in a special way.
When the Spirit of God fills the temple of God that you are, an excitement wells up from within filling you with a missionary spirit, a longing to share what you have received with others. And that is how the Church grows. Yours is a small community, but it need not stay that way.
2.) In our Gospel Jesus purifies the old Temple and then declares that the real Temple is his body. I know that you work to make sure that this church building stays clean and in good order, but Jesus is talking especially about the spiritual state not only of the old Temple but also the new, which is you. And to emphasize the priority of the spiritual over the material, not that while the old Temple will be destroyed, never to be rebuilt, the new Temple of his body — and ours — will rise from the dead.
3.) And of course as I said at the beginning of this homily, this building is sacred too. It is not just a worship center, it is a house of God where Jesus is present sacramentally in the Eucharist we celebrate around this altar and reserved in the tabernacle for your adoration and prayer once Mass is over with. Hence today's responsorial psalm: "How lovely is your dwelling place, Lord, Mighty God!" This is the Temple of which Ezekiel prophesized in our first reading when he said, "I saw that the Temple was filled with the glory of the Lord."
So congratulations on this your 50th anniversary. May the Spirit of God fill the Temple that you are, may you be purified by a personal encounter with Jesus and his loving mercy, may you worship him in this sacred house of God, and then filled with a missionary spirit, may you go forth to share with others the many blessings that you receive here.