Marian feasts to offer spiritual insight
Published: December 7, 2015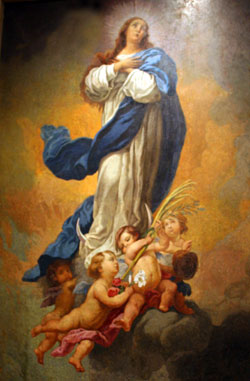 The solemnity of the Immaculate Conception of the Blessed Virgin Mary is celebrated Tuesday, Dec. 8. It is a holy day of obligation. This feast acknowledges that Mary, the mother of Jesus, was conceived without original sin.
"The Father blessed Mary more than any other created person 'in Christ with every spiritual blessing in the heavenly places' and chose her 'in Christ before the foundation of the world, to be holy and blameless before him in love.'" To learn more, visit the Catechism of the Catholic Church (490-493). To find a Mass, go to a parish near you or see Mass times in Arkansas.
The Holy Year of Mercy also kicks off on this feast day. Bishop Anthony B. Taylor will open the jubilee year in the Diocese of Little Rock with a special Mass at 7 p.m., Tuesday, Dec. 8 at the Cathedral of St. Andrew in Little Rock. To learn more, visit our Year of Mercy Resources.
On Saturday, Dec. 12, we celebrate the feast of Our Lady of Guadalupe. In 1531, the Blessed Virgin Mary appeared as an Aztec princess to Juan Diego in a small village near Mexico City. As a result, millions later converted to the Christianity. Our Lady of Guadalupe is not only the patroness of Mexico, but of all the Americas. Special celebrations mark this feast in parishes across Arkansas. See Calendar of Events to find events in your area.