Looking for a job? See employment page
Published: June 25, 2021
Several job openings are listed at the Diocese of Little Rock and its Catholic parishes and schools on this website. Visit our Employment Opportunities page to find a current list of the positions that are available.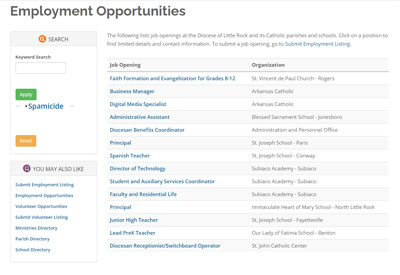 Four of the positions are for diocesan employment. This includes two new positions in Arkansas Catholic: Business Manager and Digital Media Specialist. The other positions are for Diocesan Benefits Coordinator in the Administration and Personnel Office and Diocesan Receptionist/Switchboard Operator for St. John Catholic Center. Click on a position to find details and contact information.
To learn more about job openings at the diocese, contact Dennis Lee, chancellor for administrative affairs, at (501) 664-0340, ext. 308. Parishes and schools may submit job openings as well. To post a position on the diocesan website, go to: Submit Employment Listing.