Jonesboro to have last Mass at old church
Published: September 29, 2017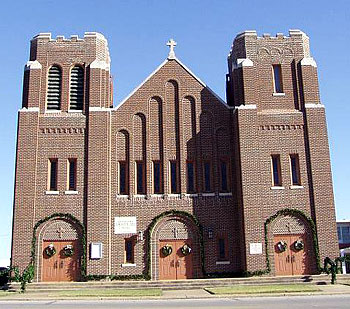 Bishop Anthony B. Taylor will celebrate a Mass to decommission the old Blessed Sacrament Church, located at 614 South Church St. in Jonesboro, on Sunday, Oct. 1 at 11 a.m. This will be the last Mass to be celebrated at this location because a new church is being built on a 20-acre site near the new Blessed Sacrament School on Highland Drive.
Bishop Taylor blessed the new site during a groundbreaking ceremony March 19. The new 15,000-square-foot church will be located at 1105 E. Highland Dr. and is expected to be completed by September 2018.
After Oct. 1 and until the new church opens, parishioners will celebrate weekday Masses and adoration of the Blessed Sacrament at Blessed John Newman University Parish and weekend Masses in the auditorium at St. Bernards Medical Center located at 505 East Washington Ave.
The old church property, which was purchased by St. Bernards Medical Center two years old, has been used by the parish since it was dedicated in 1933. Read about St. Bernards' plans for the property.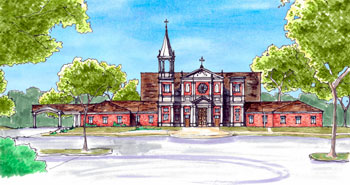 "I invite you and your parishioners to come and see the church one last time," said Fr. Alphonse Gollapalli, pastor of Blessed Sacrament Church, in an invitation to the Decommissioning Mass. All current and former parishioners across the Diocese of Little Rock are welcome to come and say goodbye to the old church.
"This is an emotional time for us and I am sure to all of you, and especially to the former pastors, former associate pastors and former parishioners. Please keep us in your prayers during this time of transition," he said.
To learn more, read Arkansas Catholic or visit the parish website at www.catholicjonesboro.com.