Blessed John Newman University Parish - Jonesboro
Mass Schedule
| | |
| --- | --- |
| Sun. | 5:30 p.m. |
| Mon. | 7 a.m. |
| Wed. | 5:30 p.m. |
| Thu. | 7 a.m. |
| Fri. | 7 a.m. |
| Sat. | 8 a.m. (First Sat) |
| Holy Days | As announced |
Adoration
| | |
| --- | --- |
| Mon. | 7:30 a.m. - 5:30 p.m. |
| Tues. | 7:30 a.m. - 5:30 p.m. |
| Wed. | 7:30 a.m. - 5:30 p.m. |
| Thu. | 7:30 a.m. - 5:30 p.m. |
| Fri. | 7:30 a.m. - 5:30 p.m. |
Contact Inez Ray at (870) 273-6535 for more information.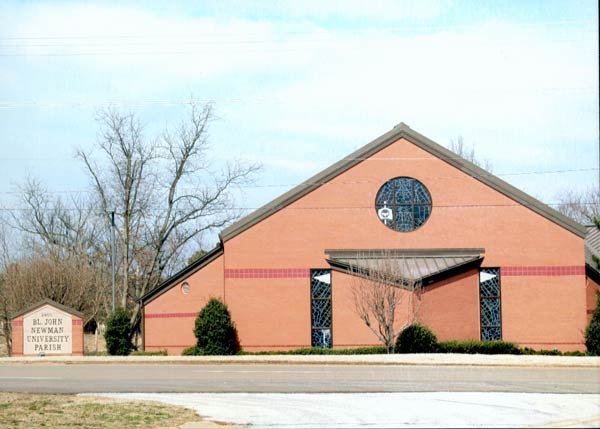 Blessed John Newman University Parish
Jonesboro (Craighead County) - North Delta Deanery
2800 E. Johnson Ave.
Jonesboro AR 72401
Attended From Blessed Sacrament Church - Jonesboro
Office Hours: Sun., Tues., Wed. 1 - 5 p.m., Mon. and Thurs. 1 - 9 p.m. (school year)
(870) 972-1888
(870) 972-6294
www.astatecnc.com
director@astatecnc.com
www.facebook.com/AstateCNC
twitter.com/AstateCNC
www.instagram.com/astatecnc
This is a personal parish (Code of Canon Law, Can. 518) with a unique mission of serving the college students, faculty and staff at Arkansas State University.
Pastor
:
Fr. Alphonse Gollapalli
Director of Catholic Campus Ministry: Brandon Weisenfels (director@astatecnc.com)
Secretary/Bookkeeper: Patricia McCaughan
Choir Director: Carolyn Ponce